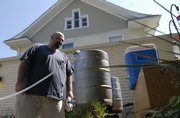 After a long summer day, Sean Belden might relax with a cold beer. But he won't go to the liquor store to stock up; he'll just open his fridge and grab one of the beers he brewed at home.
"I grew up on Coors and stuff like that. I got into real beer and liked it," Belden says.
The Lawrence Brewers Guild has been around since around 1993, when a couple of members who brewed on their own found each other and started meeting to discuss brewing tips, says Belden, the group's president. Today the guild has 75 members who meet once a month to attend a seminar related to beer and brewing. Afterward, the members taste and rate each other's brews.
"We basically meet to talk about our experiences with making our own beer and (to teach others) to make their own beer," Belden says.
On occasion, the Free State and 23rd Street breweries hold seminars for the guild. This past summer, Kevin Prescott, Free State brewer, ran a session his trip to Hop Union, a hop producer, to educate guild members on hop selection.
In late 1970s the U.S. government passed a law allowing home brewers to brew no more than 100 gallons for each adult in the household. Belden says that the average beer batch makes about 5 gallons. Depending on how much beer you drink, you can brew more than enough beer at home for your own drinking pleasure.
"One of my goals is to get everybody to brew at least once a year," says Dale Wheeler says, guild member.
At meetings Wheeler brings different commercial brews that members can taste, rate and compare. This helps members develop their palate for beers, he says.
Brewing can be daunting because of the chemistry that's involved in making beer, but Wheeler says that anyone can do it and he encourages new members and other people interested in beer to try it out.
"I prefer Belgian and German beers," Wheeler says. "(They have) all kinds of different flavors you don't get in American beers."
He likes brewing European-style beers because in the U.S. you can't get good examples of specific beers because of the time and conditions that are involved with transporting them into this country.
Belden agrees with Wheeler's view of beers imported from Europe to the U.S.
"One of the reasons I personally got into this was that I really like English bitter," Belden says.
These beers are brewed fresh in English pubs and can't tolerate heat, so it's impossible to ship them across the ocean to the U.S. Pubs usually make the beer within their premises and don't usually distribute them out of the pub, Belden says.
All you need to brew fresh beer in your own home are a handful of tools and ingredients. Belden says that with the guild's guidance, home brewers only need a boiling pot, or carboy, fermenter, siphon, malt and hops. These ingredients may be purchased for around $70 on Web sites like www.howtobrew.com.
The Lawrence Brewers Guild meets on the second Thursday of each month at the Unitarian Fellowship of Lawrence, 1263 N. 1100 Road.
"It's almost more of an appreciation of beer than anything else," Wheeler says.
People who brew their own beer take pride in their craft, and he says that guild members urge the public to get interested in brewing but also promote responsibility when drinking or making alcohol.
"It's so good you don't want to waste it," Wheeler says of home-brewed beers.
This fall they will have a tent at the Kansas City Renaissance Festival and will showcase beer from the Renaissance. They'll have a beer tasting and competition for which you may submit beers that you have brewed.
Guild members always try to encourage anyone who might be interested in brewing to attend meetings. The guild offers a wealth of information and support for home brewers, Wheeler says.
The guild also has an online forum that helps members communicate about recipes and brewing tips.
"At least you have someone to lean on and work out problems," Belden says.
Copyright 2018 The Lawrence Journal-World. All rights reserved. This material may not be published, broadcast, rewritten or redistributed. We strive to uphold our values for every story published.