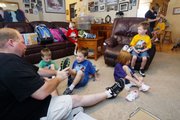 Norwich — Choking back the tears that could have engulfed the moment, Sondra Headrick watched her six babies march off to kindergarten with a happy smile.
One by one, Danielle, Jaycie, Grant, Melissa, Ethan and Sean hugged their parents goodbye, found their classmates and teachers at Norwich Elementary, and started their first day of school.
For only a moment, Sondra lingered with her memories: the cribs and bottles, the first steps, potty training, learning to dress and feed themselves.
"It's all a blur," she said. "From moment to moment ... and now it's here."
For their dad, Eldon, life's been "one day at a time" since the April 6, 2002, birth of the sextuplets at Wichita's St. Joseph Hospital.
"If you tried to stop and think you'd go crazy," he said, with a knowing smile.
The six little Headricks, with help from their older sister, Aubrianna, 9, awakened, had breakfast, dressed for school and bounded into the family van like a well-oiled assembly line.
For Sondra, the morning began with the 5:30 a.m. jangle of her bedside alarm.
6:20 a.m. Danielle was up first.
She scooted out of bed, enjoyed a morning hug from her mother and snuggled down into the living room's overstuffed rocking chair.
Jaycie followed, with Sean behind. Ethan and Melissa and Grant joined their sisters and brothers.
Danielle eased out of the chair to stroke their pet cat Harry - black and white and huge - so named because Eldon found him on Harry Street in Wichita.
6:45 a.m. With a call to breakfast, the six siblings found their places at the table.
Perched in six matching booster chairs, they waited quietly while their mother prepared their plates. One by one, they reached into a plastic box of tableware and found their own forks. Aubrianna joined them, sitting at the breakfast bar.
7:03 a.m. Sondra and Eldon added parental prompts: "Drink your milk."
"Remember mommy won't be there when you go to the bathroom at school."
"Ten minutes and we have to get dressed."
Grant jumped down from the table to perform. "I can stand on one hand."
"I can hop on one foot," Sean joined the parade.
Melissa snuggled onto her mother's lap in tears, Harry the cat had scratched her - and leaving for school time was almost there.
Eldon swished breakfast plates and glasses through the sink while Sondra rethreaded the pink laces in Melissa's new shoes.
"I wonder what little person took these laces out," she said.
Sean answered. "I did it because she scratched me."
7:15 a.m. Sitting beside a stack of colored T-shirts and jean shorts, Sondra invited the lineup to dress for school.
Across the room, Eldon took charge of the six new pairs of lace-up shoes. No Velcro because kindergarten is the year they learn to tie their shoes.
In Norwich, kindergarten and grades one and two are combined and divided into five groups that are color coded into purple, red, blue, yellow and green. Except for Ethan and Danielle, who share the same color, the brothers and sisters will be separated from each other for the first time ever.
7:35 a.m. Sondra matched shirts to children. Jaycie, Melissa and Danielle took turns, perched on a stool while their mother rolled the warm curling iron on their bangs and turned under the sides of their new haircuts.
Sondra urged the brood to move a little quicker. Eldon spiked Grant's hair and combed and sprayed Sean and Ethan's.
7:55 a.m. Time to load the van and make the 15-mile drive to the school.
"Grab your backpacks."
"Line up on the porch for pictures."
"Go. Go. Go. Go. Go. Go."
8:14 a.m. Dash to the building to be met at the door by Mrs. Kirby, last year's preschool teacher, all smiles and with a big hug for each little Headrick.
Teachers and students matched colors and headed for their classrooms. Sondra and Eldon followed with a camera.
"Everything is for a reason," Sondra said in a moment of reflection. "For some reason, we got chosen."
Back home and the house was quiet, almost too quiet. Sandra did some housekeeping and stirred up a batch of cookies.
"I'll miss the kids," she said. "But I know they're having fun. I'm really proud of them, excited."
4 p.m. Start watching for the school bus.
Copyright 2018 The Associated Press. All rights reserved. This material may not be published, broadcast, rewritten or redistributed. We strive to uphold our values for every story published.