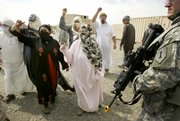 Fort Riley — Word gets relayed that the next group is coming. Quickly, the actors stop their game of dominoes, stomp out a cigarette and put on their Arabic clothes.
A few minutes later, Lee Anderson, wearing a traditional white Arabic smock over his blue jeans, T-shirt and work boots, is part of a group crowding about a dozen U.S. soldiers. In a mock village, he's portraying a resident of an Afghan neighborhood where the troops are supposed to be looking for a suspected Taliban fighter. Anderson is playing at being unhappy.
Anderson and the other actors shout simple phrases in Dari, an Afghan dialect. Translated, they mean, "Leave us alone. We're not the enemy."
The U.S. troops being jostled aren't actors but soldiers training to be advisers in Iraq and Afghanistan. Those advisers are supposed to help Iraqi and Afghan forces become independent so that 160,000 American troops can leave. The military believes reproducing the culture - and emotions - advisers will face is essential in training.
For Anderson, who left the Army in 2000, it's a relaxing break from renting mobile homes and moving them around Kansas.
"It's pretty fun," he said after his performance as an unhappy Afghan, as he kicked a small footbag in a circle with fellow role players. "You get to mess with soldiers. And it's pretty good pay."
Up to 85 role players gather six days a week at Fort Riley. Some are locals who receive $17 per hour, while others are Afghan and Iraqi immigrants from around the U.S. who receive more money and travel around the country to fill roles, including those required at large military training centers in California and Louisiana.
Some hope the role playing will lead to jobs in diplomacy or military support services. Some, Iraqi and Afghan natives, hope to prevent misunderstandings and violence between troops and their countrymen.
Plenty of interest
Like acting jobs everywhere, there's more than enough interest. Ty Evans, who supervises the local role players for Eagle Support Services of Huntsville, Ala., doesn't have to advertise the positions. Word of mouth has generated a stack of applications.
"If someone quits there are three or four people already in line," he said.
Role players cluster in one of seven makeshift villages that stand out on the rolling Kansas prairie. Large shipping containers, tan and metal, have been modified to resemble homes, shops and even a mosque. Inside, role players have couches, chairs and tables.
Military trainers give the advisers-to-be specific tasks, such as controlling crowds, searching buildings, securing the perimeter or arresting terrorists. Role players are given a rough script that tells them what the soldiers are doing and how they should react.
Cultural awareness is the goal of each phase. For example, advisers learn that chewing tobacco or placing their hat on the ground are disrespectful acts that can spoil an otherwise promising meeting.
"We make the training here much more difficult than almost anything they would deal with in (combat). That way, when they arrive, that experience will be much easier for them," said Col. Jeff Ingram, who oversees the 60-day training program.
Role players relish the chance to teach their own lessons.
"If we see that they are messing up, I will start picking on them to make them work harder," Anderson said.
More than a role
Mock meetings with village leaders require a handful of native speakers to play mayors or military officers, who will speak through a translator.
The native-speaking actors work for defense conglomerate L-3 Communications Holdings Inc. in Virginia, which assesses their language skills and does a security check.
"You're not talking about someone walking in off the street," said Otto Nadal, who supervises them. "These are people who are already steeped in the culture. These are great Americans coming out to help get our soldiers prepared."
The native speakers' motives tend to be more serious. They believe that if they do their jobs well, the lives of people they left behind in Iraq and Afghanistan could be saved.
Abdulsalam Mulla views the role playing as the best job he has ever had, and he has bonded with the soldiers he's training.
A 29-year-old native of Iraq's Kurdish region, Mulla came to Fort Riley from Salt Lake City, where he was studying political science and working in customer support for a satellite TV company. When the training schedule allows, he will go back to Utah to continue his education.
For now, he's living at Fort Riley near the advisers, interacting with them at meals and around the compound.
"Right now, I appreciate their efforts, from the bottom of my heart. I really do. I want to see them all back safely," he said. "And I would do anything to be part of that. Most of my friends are soldiers."
Copyright 2018 The Associated Press. All rights reserved. This material may not be published, broadcast, rewritten or redistributed. We strive to uphold our values for every story published.