Topeka — A $32 million relief package for rebuilding Greensburg won legislative approval Tuesday, less than three weeks after a huge tornado all but wiped the small south-central Kansas town from the Great Plains.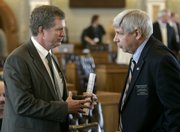 Legislators approved proposals to set aside $25 million to cover disaster expenses, create a $5 million grant program aimed at encouraging businesses to stay and rebuild in Kiowa County, and provide $2 million worth of sales tax breaks to those businesses.
Lawmakers also approved measures making it possible for a disaster declaration to remain in effect in Kiowa County until Jan. 14, when legislators convene again. A declaration gives the governor extraordinary powers in a stricken area to direct resources to disaster relief.
Legislators were forced back to work on a day normally reserved for a brief adjournment ceremony. The EF5 tornado swept through Greensburg the night of May 4, more than 1.5 miles wide and with winds of up to 205 mph. It destroyed more than 90 percent of the town of about 1,400 and killed 10 people.
"It's important for us economically and symbolically, that when you're in trouble in Kansas, you don't stand alone," said House Minority Leader Dennis McKinney, D-Greensburg, whose home was destroyed.
"It's the key to keeping city government solvent and getting businesses to come back, which is the prime mover to get the ball rolling to rebuild the community," he said.
Help came in two parts. The first was a resolution extending the disaster declaration until Oct. 31. The House adopted it on a voice vote, and the Senate approved it, 34-0. It does not need Gov. Kathleen Sebelius' signature.
The second was a bill allowing Sebelius and legislative leaders to extend the disaster declaration issued May 5 beyond Oct. 31, up to Jan. 14. It also creates the grant program, provides tax relief and allows Sebelius and legislative leaders to set aside disaster relief funds.
The Senate approved the bill 34-0, and the House passed it 114-0. Sebelius plans to sign it and thanked legislators for their work.
"Today's action is good news for Greensburg and is a great example of what can be achieved through cooperation here in Topeka," Sebelius said in a statement.
While the Legislature's votes were unanimous, some lawmakers questioned the focus on Greensburg and Kiowa County. Three other tornadoes touched down in the area the same night, and storms continued the following day, claiming an additional three victims.
Other legislators conceded the point but said Greensburg's needs were the most pressing.
Copyright 2018 The Associated Press. All rights reserved. This material may not be published, broadcast, rewritten or redistributed. We strive to uphold our values for every story published.