Hutchinson — Someday, Brett Peters will hear the story of how his parents and grandparents survived a harrowing tornado to make sure that he made it safely into the world.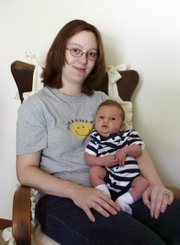 The 2-week-old's mother, Jennifer, will tell him how she started having contractions early on the evening that a tornado destroyed Greensburg.
Jennifer didn't tell her husband, Eric, about the contractions for hours, until they had safely made it to the home of Eric's parents in Hutchinson.
This is the story the couple will tell their son:
Jennifer Peters' mother started calling before the tornado hit May 4, insisting that the family wait out the storm in her Greensburg basement. At first, Jennifer didn't want to go, even though the contractions had begun.
"I was big, really big, and I didn't want to walk down those stairs," she said.
But her mother continued calling, every five minutes, until the couple arrived at her home.
For a while, the couple sat with her mother and stepfather on the basement couch, but as the storm bore down, they moved to the floor.
"Everybody pretty much laid on me," Jennifer Peters said. "We went from being thoroughly convinced we weren't going to have a tornado to being afraid the house would fall in on us."
When the tornado passed, they discovered windows had blown out of the house and part of the roof was gone.
For more than an hour, Jennifer and her husband tried to find a street that wasn't closed by debris to get from her mother's home to their home.
At this point, she still hadn't told her husband that the contractions were coming six minutes apart.
In Hutchinson, Eric's parents were trying to reach the couple and another son, Ryan, and his family, who also lived in Greensburg.
At 12:15 a.m. on May 5, when Eric Peters was able to reach his parents, his message was brief.
"Come and get us. Now," he told his mother.
Dean and Jere Peters had to drive through a highway that was jammed with emergency vehicles, ambulances, fire trucks and police officers.
"We talked our way out by saying our daughter-in-law had gone into labor," Jere Peters said.
When they reached his parents' home in Hutchinson at 6 a.m., Jennifer Peters finally told her husband about the contractions. They watched the clock until heading for the Hutchinson Hospital at 8 p.m., when the contractions were two minutes apart.
Brett Dean Peters was born at 5:31 a.m. May 6. He weighed in at 8 pounds, 14 ounces and measured 22 1/2 inches long.
Since that harrowing night, Jennifer Peters hasn't gone back to Greensburg. Brett's dad, Eric, visits from Greensburg, where he manages the Kiowa County landfill.
"We've been so fortunate in the whole thing," Jennifer Peters said. "At least he wasn't born in my mother's basement."
Copyright 2018 The Associated Press. All rights reserved. This material may not be published, broadcast, rewritten or redistributed. We strive to uphold our values for every story published.