Wichita — About a dozen abortion opponents gathered in front of Dr. George Tiller's clinic Thursday to launch a 77-hour prayer vigil.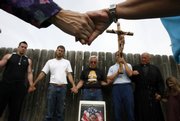 This city - the site of massive civil disobedience during the 1991 "Summer of Mercy" abortion protests - again braced for crowds that did not materialize. Sidewalks were barricaded to control the anticipated protesters and police monitored the event.
This city has been a high-profile target of anti-abortion protesters for decades because it is home to Tiller, one of the few physicians in the country to perform late-term abortions. His Wichita clinic was bombed in 1985, and Tiller was shot in both arms by a protester in 1993.
About 40 to 50 people registered to attend the prayer vigil, and an additional 4,000 across the country pledged to pray during the event in their own cities, said Troy Newman, president of Operation Rescue in Wichita.
Christians were planning to come to Wichita from California, Virginia, Louisiana, Arkansas, Nebraska and Washington state for the vigil, he said.
"The reason we pray is because we are people of faith," Newman told reporters.
Among the protesters was the Rev. Norman Weslin of the Lambs of Christ group in Omaha, Neb. Weslin, who told reporters he has been arrested a couple of times for protesting at Tiller's clinic, said abortion opponents now have a majority of the U.S. Supreme Court, and said he anticipated a federal court ruling on the abortion issue.
"We are very elated about it," Weslin said.
Protesters strung a massive banner across the entrance to the clinic's parking lot that read: "Please do not kill your baby. You will regret it for the rest of your life."
In December, outgoing Attorney General Phill Kline, an anti-abortion Republican, filed 30 misdemeanor charges accusing Tiller of violating restrictions on late-term abortions, only to have the case dismissed on jurisdictional issues.
Newman said he and others have met with Department of Justice officials in Washington, D.C., over the allegations. Newman said he expected to see something from the federal government on it in the next few months, but declined to elaborate further.
Copyright 2018 The Associated Press. All rights reserved. This material may not be published, broadcast, rewritten or redistributed. We strive to uphold our values for every story published.