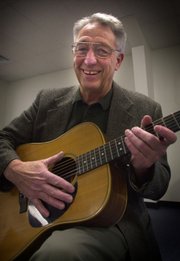 Salina — As he seeks to help troubled youths adopt more positive behavior, Patrick Bihlmaier has known frustration.
"Adolescent boys are resistant to every form of therapy because they're at an age when they're trying to find independence," he said.
His tact: Play. Games, music, storytelling, role-playing, improvisation, video production - they're all tools of his trade.
He's a drama therapist.
It isn't always easy to convince people of the value of drama therapy, Bihlmaier said, because we live in a society that doesn't value the concept of play.
"We don't let children play enough," he said. "We want them to grow up too fast. People don't realize how important play is in early development." For the past two years, Bihlmaier, 63, who received a master's degree in drama therapy at Kansas State University in 2004, has run drama therapy sessions for at-risk boys at Salina's St. Francis Academy.
Once or twice a week, he works with three groups of teenage boys at the academy, teaching them skill-building techniques, leading them in group activities and encouraging them to participate in role-playing games.
It isn't always easy to build trust with behavior-challenged teenage boys, Bihlmaier said. "It's important to get them functioning within a group right away," he said. "Drama therapy is experiential participation is everything."
A longtime musician, Bihlmaier has played guitar and harmonica for the boys and has instructed them in working with drums, writing lyrics and making musical instruments and music videos.
He also has worked as a carpenter and has had the boys build several items that include drum sets, theatrical masks and costumes.
"They see that I can use tools and build things, so getting a saw in their hands is one of the quickest ways I can connect with them," he said.
Kebby Underwood, a social worker at St. Francis Academy who has helped Bihlmaier lead the groups, said drama therapy has proven to be a valuable therapeutic tool.
"In drama therapy, the kids are having so much fun they don't know they're making behavioral changes," she said. "Through games, music and role-playing, they're working out issues and learning about themselves in other ways than just talking."
Bihlmaier has been an actor and working musician most of his life. He graduated from Bethany College in 1994 with a degree in theater and music and in the mid-1990s ran a popular Lindsborg coffee cafe that was the site of concerts by dozens of regional musicians. He also was involved in several productions at Salina Community Theatre.
In 2002, he discovered that drama therapy was offered in the master's program at Kansas State University.
"I didn't know anything about the field of drama therapy until I interviewed at K-State," Bihlmaier said. "I found this was a way to combine my interest in theater and in psychology. It was a way to use theater as a force for personal healing and growth."
Bihlmaier currently is working on becoming a registered drama therapist through the national organization, an effort that takes 1,500 internship and professional hours. He plans to earn most, if not all of his hours, through his work at St. Francis.
"Right now, I think I'm ideally suited to working with these boys," he said. "I want to stay here awhile because I really think I'm making a difference in their lives."
Copyright 2018 The Lawrence Journal-World. All rights reserved. This material may not be published, broadcast, rewritten or redistributed. We strive to uphold our values for every story published.