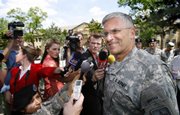 Fort Riley — A weekend attack against U.S. soldiers in Iraq isn't the first time the enemy has captured troops and likely won't be the last, Gen. George Casey said Monday.
Speaking to reporters after meeting with Fort Riley and 1st Infantry Division commanders, Casey said it was too early to tell whether the war in Iraq was taking a new turn or whether the deadly attack on U.S. soldiers, reportedly by al-Qaida forces, was an isolated incident.
"Unfortunately, that's not the first time something like this has happened. You have units fighting in a dispersed environment. It's difficult," Casey said, speaking outside Patton Hall at Fort Riley.
Military officials said an ambush on a U.S.-led coalition convoy south of Baghdad killed four American soldiers and an Iraqi soldier. Three American servicemen are missing and believed abducted by militants linked to al-Qaida.
"The guys on the ground are making every effort to find them, and we won't let up until we do," Casey said.
Casey became chief of staff on April 10 after serving 30 months as commander of the multinational force in Iraq. He was replaced by Gen. David Petraeus, former commander of 101st Airborne Division and the Combined Arms Center at Fort Leavenworth.
President Bush and the Department of Defense are sending five additional brigades to Iraq to regain control of the regions, especially Baghdad. The last of the brigades are expected in Baghdad in June. One that already has been sent is the 4th Brigade of Fort Riley's 1st Infantry Division.
More than 6,000 Fort Riley soldiers are in Iraq and Afghanistan, with more slated to go later this year. When the buildup is complete, nearly 160,000 U.S. troops will be in Iraq.
Casey spent the day meeting with Fort Riley teams that are preparing for missions as advisers to the Iraqi and Afghan armies. The teams complete 60 days of cultural immersion and intensive skills training before deploying for a year in combat embedded with foreign soldiers on the ground.
He also had meetings with a variety of Fort Riley soldiers and officers to assess their needs and how the Army can better serve them and families.
Casey said that during his tour of Army posts families have been expressing concerns about the frequency of deployments to Iraq and Afghanistan.
"That war has a cumulative impact on soldiers, equipment and organizations. We're seeing some of that and we have to be attentive to that," Casey said. "One of the major efforts that's clear to my wife and I, and the leaders I talk to, is we need to do even more than we have in the past for the families. They are carrying a burden here that is frankly much larger than I would have thought.
"We need to provide them a better level of assistance."
A recent internal review by Veterans Affairs raised concerns that soldiers returning from Afghanistan and Iraq face an increased risk of suicide, prompting calls for increased interventions and support structures for soldiers and their families.
The review found that nearly three years into the VA's broad strategy for mental health care, services were inconsistent throughout the agency's 1,400 clinics. Several facilities lacked 24-hour staff, adequate screening for mental problems or properly trained workers.
Copyright 2018 The Associated Press. All rights reserved. This material may not be published, broadcast, rewritten or redistributed. We strive to uphold our values for every story published.