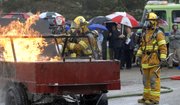 A $50,000 grant from two insurance companies awarded to the Kansas Fire and Rescue Training Institute will help firefighters across the state receive specialized training.
"(Saying) 'thank you' just doesn't seem to be enough," institute director Glenn Pribbenow said Wednesday during a presentation of the Fireman's Fund Heritage Grant from Fireman's Fund Insurance Co. and IMA of Kansas.
The presentation was held at Kansas University's Continuing Education Department building, 1515 St. Andrews Drive. Continuing education includes the fire and rescue institute. Several representatives from IMA and Fireman's Fund also were on hand, as were KU leaders.
It was "an easy choice," Kurt Watson, president of The IMA Financial Group Inc., said about the decision to award the grant. IMA of Kansas is a subsidiary of the financial group, which is headquartered in Wichita.
Fireman's Fund Heritage program has awarded more than $10 million in grants to more than 300 fire service organizations and fire departments nationwide.
"This is more than just a check-writing service. We also understand the challenges firefighters face every day," said Cathy Link, regional sales executive for Fireman's Fund Insurance.
The grant will pay for training 1,100 Kansas firefighters in the institute's live fire-training simulator, which is housed in a semitrailer. The computer-controlled simulator allows firefighters to practice dousing fires through smoke in enclosed spaces.
Many rural fire departments train with the mobile simulator - at no cost - so their firefighters don't have to leave home, Pribbenow said.
"We typically do this training anyway but it (the grant) will allow us to maximize our budget and stretch it a little further and do a little more training all the way around," Pribbenow said.
The fire institute, which is funded by the state, also receives a portion of the fire insurance premium tax.
Following the presentation, firefighters with Lawrence-Douglas County Fire & Medical and institute staff demonstrated how the fire simulator is used to teach firefighting techniques.
"It's fairly realistic," Fire & Medical Capt. Phil Kuhnert said. "It gives you the practice of having the fire rolling over your head and that is very difficult to simulate when you are burning props that are combustible."
Copyright 2018 The Lawrence Journal-World. All rights reserved. This material may not be published, broadcast, rewritten or redistributed. We strive to uphold our values for every story published.