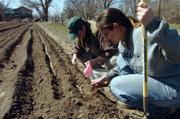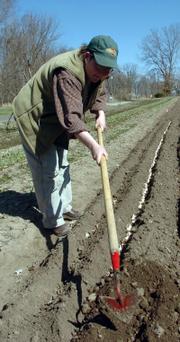 Jess Pierson has 30 acres of land available to garden, and a big curiosity for how to make it profitable.
Her grandfather used to farm the land near Lone Star Lake.
"I have a sentimental attachment to farming," Pierson says. "I remember when my grandfather farmed it. I want to make the land worthwhile again."
Growing growers
Growing Growers is seeking applications for both its paid and volunteer apprenticeship programs. For more information, visit www.growinggrowers.com or call (913) 488-1270.The program also offers monthly workshops at area farms. The schedule also is found at the Web site.Growing Growers has scholarships available to help participants attend workshops and develop business plans. For more information, e-mail Crystal Weber at webercd@missouri.edu, or call her at (816) 876-2790.
To help do that, Pierson has become a gardening apprentice at Moon on the Meadow in East Lawrence. She's participating in Growing Growers, a collaborative effort of K-State Research and Extension, the University of Missouri Research and Extension, the Kansas City Food Circle and the Kansas Rural Center.
The goal is to get people in the Kansas City area who are interested in farming into the fields with experienced farmers/gardeners, to learn the trade firsthand. The program, in its fourth year, aims to increase the number of produce farmers in the region.
"We have all these farmers markets, and in many cases they don't have as many farmers as they'd like to have to create a more vibrant market," says Ted Carey, a horticulturist at K-State's Olathe Research Center and a Growing Growers organizer. "We had an awareness there was consumer demand and not enough people producing to meet that demand."
Growing Growers offers both paid apprenticeships, for employees working at least 20 hours a week at area farms, and volunteer apprenticeships. It also organizes monthly workshops that are open to the public.
"We've had some people who find out this isn't for me," Carey says. "We've had really a range of types of participants. We had a burned-out professional nurse wanting to change careers. We've had university students who are shopping around (for careers), I guess. We've had inner-city youth working in inner-city gardens."
Hands-on experience
One of the farmers who has been through the process is Stephanie Thomas, who owns Spring Creek Farm near Baldwin City. She was an apprentice in 2005 at the Kansas City Center for Urban Agriculture.
Now she's taken that knowledge and farms an acre she plants mainly with tomatoes and French melons. She sells at the Community Mercantile, the Lawrence Farmers Market, Local Burger and to 20 members of her community-supported agriculture (CSA) organization.
Thomas says she had gardened all her life but mainly for herself and her family.
"I hadn't done it organically," she says, "and I hadn't done it on a large scale like that."
Natalya Lowther, owner of Pinwheel Farm north of Lawrence, says she wishes Growing Growers had been around when she started farming.
"A lot of mine was trial and error and reading," she says. "This is extensive hands-on experience at a real farm."
Lowther has interviewed a candidate to be an apprentice at her farm.
"One of the things I'm looking forward to is seeing my own operations through someone else's eyes," Lowther says. "It's going to be great having folks around."
Lowther says the program offers a distinct advantage over a farmer just striking out on his or her own.
"If an apprentice decides they're not going to grow up to be a farmer, the best way to find out it's not for you is on someone else's farm," she says. "Even if they decide it's not for them, there are a lot of skills that will follow them wherever they go."
Booming market
Pierson spent her first day of the apprenticeship last week spreading fertilizer at Moon on the Meadow.
"I want to learn how to grow a profitable organic farm," she says. "I'm also really looking forward to getting to know the people who have been involved in this for so many years."
Jill Elmers, who owns the farm, says she expects Pierson to be involved in every aspect of the farm, including planting, harvesting and selling at the Farmers Market.
"The hands-on is really important," Elmers says. "Books are written for a general audience. There are some things you can't learn from them, like identification of bugs or plants."
Elmers says she hopes Pierson - and other Growing Growers apprentices - find their experience so enjoyable they want to garden for themselves.
"The market is huge," Elmers says. "I think we could support a lot more farms than we have."
Copyright 2018 The Lawrence Journal-World. All rights reserved. This material may not be published, broadcast, rewritten or redistributed. We strive to uphold our values for every story published.