Junction City — Four years after the first U.S. troops entered Iraq, the war remains an abstract thing for many Americans, fought by people they don't know in a land they'll never visit.
For this Army town, it's a familiar reality fought by Dad or Mom.
As the beginning of the United States' invasion is marked Tuesday in Iraq - today in the United States - Junction City remains stuck in an age of absence, a fate shared by military towns across America.
Eighty-eight soldiers from nearby Fort Riley have been killed since the war began March 20, 2003. At any particular time, thousands are gone. Left behind are lonely spouses, parents flying solo, anxious children and a star-spangled town tied up in yellow ribbons tattered by the years of a slow-going war.
Before troops ship overseas, a wedding boomlet sweeps Geary County, marriage license records suggest. When they return, the divorce rate climbs, and police calls about domestic disturbances double.
Still, the city copes. Schools form deployment clubs. Volunteers put on potlucks. A neighbor takes the kids for a day.
Children learn self-comfort
When one little girl missed her father, a school social worker suggested she stuff a pebble into her pocket. When sadness set in, she was to rub the stone and remind herself of three things: Daddy loves you, he misses you and he's doing his best to come home as soon as possible.
It's a little thing. Corny, maybe. But the trick of self-comfort symbolized by a shiny, polished rock is the sort of thing people here use to get by.
Four years ago, there was worry, but also an expectation that the journey from the Midwest to the Middle East and back would be relatively short. People recalled the first Gulf War, a painful separation, but one that ended quickly enough.
This has turned out differently. The loss in blood has been far greater, and the separation is a serial affair. One deployment. A second. No end in sight.
Mark and Sheri Lohnes know that better than most. Six members of their family have deployed to Iraq - three sons, a daughter and two sons-in-law; two each in the Marines, Army and Navy. A flag bearing six stars is displayed in a window of their Junction City home and gives a hint about the breadth of the family's worries.
'It changes everybody'
"The reality is that it is war and it changes everybody who goes over there," said Mark Lohnes, a Lutheran minister. "When they come back, they're not the same. They lose friends over there and that's the hardest part. ...
"The thing that keeps them going is that they have a sense of hope and that this isn't forever."
The anguish of long and repeated deployments is felt keenly in the Geary County schools, where a third of the teachers and staff come from military families, and more than half the students are children of soldiers. The number and frequency of deployments mean parents are gone more than they're home.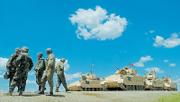 "To the younger kids, they don't know much different," said school social worker Jim Williams. "They're used to that soldier being gone and it seems almost the same as if it's Korea when it's Iraq."
But there's little predictable about how children deal with parents being gone or hurt. If adults are calm, the kids usually are, too. If the relatives panic, Williams said, it's sure to shake the youngest in the family.
Different ways to cope
Sometimes there's no getting around the difficulty of war. Williams recalled a middle-school girl whose father lost an eye in combat. Why did it have to be my dad? she pleaded.
"Then we talked about what she knew about why he had to go to Iraq," Williams said. "She was proud of that. And that helped her deal with it. ... Sometimes they just have to face the reality that this is the way life is going to be. We just have to go on."
One first-grade boy insisted on going to school the day after he learned that his father was dead. His classmates discussed ways they could help their buddy through a tough time. A 7-year-old whose father was killed in combat leaned more heavily on her mother, who turned to men in the community to fill the masculine void in the family.
"It was because of the mother's strength that they got through things," Williams said. "Now they've become closer as a family."
Carrying around Dad
For those worrying about a soldier overseas, Williams often suggests the pebble as crutch. He recalled being at a swimming pool when a teenager fussing with her clothes giggled "I just dropped Dad" when a stone fell to the ground. Now spouses are using the same device.
Arriving home safely creates its own complications. Soldiers' leaves, for instance, aren't timed for summer vacation. So the school district encourages students to take time off when a parent comes home and makes special arrangements for homework. That risks damaging the district's compliance with the No Child Left Behind law, which begins to mark down a school when attendance drops below 95 percent.
"We're going out of our way to accommodate what's different about our families," said school Superintendent Ronald Walker.
Big Red One returns
Economically, Junction City and close-by Manhattan have seen a mixed affair. The Pentagon's realignment of forces is bringing the 1st Infantry Division, which left for Germany a decade ago, back to the base. When the transition is complete, the return of the Big Red One will essentially double the 12,000 troops assigned to Riley.
As the early phases of that move have taken place, the surrounding community has scrambled to build enough apartment complexes and homes for the incoming families. At the same time, though, deployments of the troops already based here have meant fewer soldiers and military families in the short term.
Some businesses have grown steadily. Global Security Storage, housed in a former furniture store outside the base, has been expanding rapidly to make room for the household goods and cars soldiers need to stash before they deploy for a year or more. Business has quadrupled in the past year. A new building is under construction.
"Business has just exploded," said Tyler Gonsioroski, who manages the storage facility. Gonsioroski also tries to ease the soldiers' longings - at least one has asked for e-mailed photos of his tricked-out Honda Accord.
Domestic disturbances up
Returning troops come back to an often awkward transition from the bedlam of a country peppered with snipers, mortars and roadside bombs to a place of home repairs, wailing children and nagging bills.
"There are good marriages and bad marriages. When you're apart, it's harder," said Peter Rombold, a Junction City lawyer. "Anecdotally, I'd say there's been a big rise (in divorces). We're talking about the fact that when you physically separate a couple, it increases the chances that there will be problems."
The Junction City police scanner squawks a little more when troops first return, too.
"I can tell you we have a spike in domestic" disturbances, said Junction City Police Chief Bob Storey, who said the number of such calls doubles from 20 to 40 a month.
But the surge is short-lived, Storey said, and considering that people are returning from an ultra-violent environment to the different stresses of family life, he considers it rather mild.
Lance Luftman, the assistant director of the Riley County Police Department, which covers the rural areas around Manhattan, said the number of domestic disturbances is way down from the first year of the war - a tribute, he said, to improved programs to help returning soldiers cope with stateside life.
Luftman also said he's seeing few clashes between off-duty troops and college students in Aggieville, the tavern district near Kansas State University. That tells him something about the popularity of the armed services even as the war's popularity has plummeted.
"People here recognize the sacrifice of those in the military and they respect it," he said.
Copyright 2018 The Lawrence Journal-World. All rights reserved. This material may not be published, broadcast, rewritten or redistributed. We strive to uphold our values for every story published.