Photo Gallery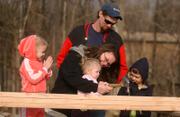 Habitat for Humanity nail-driving ceremony
Three down, three in progress and 10 more to go.
Lawrence Habitat for Humanity has been working swiftly since August to build 16 homes in the Comfort Neighborhood, which is near North Eighth and Walnut streets. The nonprofit organization builds homes, giving families in need an affordable place to live.
Work on the neighborhood's sixth house began Saturday, when the future homeowners drove nails into the first boards of the home.
"Thanks for the house," said Richard Marshall, who will live in the home with his partner of 14 years, Jessica McAlister, and their children, Nicholas, Autumn and Riley.
"This is going to be a good start for us," McAlister said.
In conjunction with Habitat's Collegiate Challenge, 31 college students from the University of Central Oklahoma, University of Illinois in Champaign and a campus ministry program out of Oshkosh, Wisc., will spend part of their spring break working on the home, said Jean Lilley, executive director.
"By this time next week, there will be a lot of progress on this house," she said.
Habitat uses community volunteers to construct the homes, and requires other Habitat homeowners to contribute "sweat equity" hours.
The nonprofit organization must complete seven homes in the North Lawrence neighborhood by the end of June to receive a $130,000 grant from the U.S. Department of Housing and Urban Development.
Copyright 2018 The Lawrence Journal-World. All rights reserved. This material may not be published, broadcast, rewritten or redistributed. We strive to uphold our values for every story published.