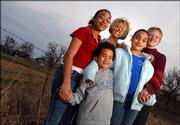 Cathy Brittain has dreamed for several years about being able to pull into the driveway and up to her own home.
"Being a single mom, I came from basically nothing and brought my children up on my own. I knew owning a home was virtually impossible," she said.
Now, because of Lawrence Habitat for Humanity, Brittain's family has the opportunity to live in the planned and volunteer-constructed Comfort Neighborhood in the 800 block of Walnut Street in North Lawrence.
It is named after longtime Habitat volunteer and former U.S. Marine Corps Maj. Gen. Clay Comfort, who died of cancer in October.
Brittain has rented a three-bedroom duplex in the Pinckney Neighborhood for nine years. She works as a customer representative at Douglas County Bank.
Her daughter Amanda, 19, lives in Topeka and works as a firefighter. Her younger daughters Trei Dudley, 12, and Kailee Dudley, 11, and her son, Jalen Dudley, 6, all attend Pinckney School.
Emotion came over the family earlier this year when they were selected to move into the new neighborhood. Habitat allows families to pay for their new homes without interest. Brittain has also volunteered and helped with construction at other Habitat projects.
"It was one of those things that I wanted for my children very badly," she said. "It's really God's doing that brought us to this place in our lives."
One of her coworkers encouraged her to apply for the home, and the bank's employees have worked diligently on Habitat fundraisers, Brittain said.
The neighborhood will house 16 families, and Habitat plans a fundraising effort, which will include Comfort's widow, Ardis, to help raise about $200,000 to help street and utility costs in the neighborhood.
Habitat Executive Director Jean Lilley said the organization hoped to announce plans for the fundraising drive in March. Confidence remains high for Habitat's largest independent project.
"It will get done. We are going to be very optimistic about this," Lilley said. "This community will come through one way or another."
The group also has to build 10 homes before June 2007 to keep $130,000 in grant money. Each home costs about $53,000, and volunteers also are pursuing sponsors for the different homes.
Steve Lane, chairman of Habitat's construction committee, said the city had approved the plans for the neighborhood, and the organization has awarded the low bids on the homes to King's Construction.
They hope to start building the first home this spring and start another one every two months, Lane said.
As the first new homeowner in the neighborhood, Brittain said she felt honored to be associated with the Comfort name.
"I feel like maybe Clay Comfort is an angel watching over all of us," she said. "He will help lay our heads to rest at night and watch over our neighborhood and keep it safe."
Copyright 2017 The Lawrence Journal-World. All rights reserved. This material may not be published, broadcast, rewritten or redistributed. We strive to uphold our values for every story published.