Jean Lilley stood by the barren plot of land in the 800 block of Walnut Street on Monday, waiting to scoop dirt from what could soon become the foundation of a dream come true.
For the Habitat for Humanity executive director, the groundbreaking represented the dreams of Clay Comfort and the families that soon could live in a 16-house Habitat-built neighborhood bearing his name.
"He will never be replaced but will always be remembered," Lilley said about Comfort, a long-time Habitat volunteer who died of cancer in 2004.
Now, after months of planning and wrangling with the city, the project officially began Monday, as Comfort's friends and family gathered to celebrate the project and the man whose name will adorn the future neighborhood.
The groundbreaking may have been a bit premature - the contract with low-bidder Kings Construction hasn't been signed and the project is still about $175,000 short - but for Lilley, the event displayed a drive to get the neighborhood built.
Photo Gallery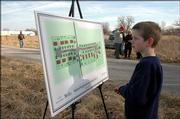 Habitat for Humanity
"It's time to let people know this is a real project," Lilley said after the ceremony began.
Then, Lilley's thoughts turned to Comfort, the man who for years worked with Habitat, both as a volunteer and then as a board member.
Comfort gave his time and energy to building homes for those mired in a cycle of paying rent they could scarcely afford, living paycheck to paycheck.
Jackie Rinke and her family stood by, listening to Lilley talk about Comfort. Rinke and her three children have lived in rural Douglas County for 14 years, paying rent for a place they would never own.
But if the project is successful, Rinke will become a first-time homeowner.
"Then we'll have something we can settle down," Rinke said.
Comfort would have wanted it that way, his widow, Ardis Comfort, said. She told the crowd that Clay Comfort dedicated his retired life to helping build homes people could afford. Now, Ardis Comfort and Habitat officials can look out over the four-acre plot and see a future for 16 area families.
"Clay would be so pleased," she said. "He would think this was perfect."
Clay Comfort's buddy Gordon Longabach also spoke. Longabach and Clay Comfort were best friends, and he remembered all of the meetings and events Clay Comfort would attend to help Habitat succeed.
Lilley announced she wanted to see some dirt turned.
So Clay Comfort's friends and family all took red shovels and, with the heels of their shoes, pushed the blades into the cold earth.
Comfort Neighborhood
Copyright 2018 The Lawrence Journal-World. All rights reserved. This material may not be published, broadcast, rewritten or redistributed. We strive to uphold our values for every story published.