Sally Dillon never imagined she would be able to paint the walls of her home and make other changes without first calling a landlord.
But her dreams became reality Saturday, as dozens of well-wishers packed the inside of her new home for a dedication celebration.
"It's gratifying to see a family take ownership of their home," said Jeff Alderman, Lawrence Habitat for Humanity president.
The event marked the completion of the organization's second home in the Comfort Neighborhood, near the 800 block of Walnut Street, named after longtime volunteer and former Habitat president Clay Comfort.
"Everybody has been so wonderful, and it's such a great opportunity for me and my family," said Dillon, holding back tears. "I couldn't express my gratitude enough."
Her daughters, Dacey and Madison, latched onto her side; all three had glowing smiles.
"My kids are so happy," said Dillon, 30. "They're excited, can't wait to move."
Dillon, her husband, Matt, and their two children will move into the home in about three weeks, once the carpet is installed. Matt Dillon, 34, wasn't at the dedication because of an illness.
After the celebration, 3-year-old Madison ran into her new bedroom and peered out the window.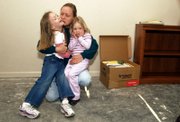 "I love my room!" she giggled.
"I think my kids will be safe and happy and healthy, and that's all anyone can really ever ask for," Sally Dillon said.
Habitat assists families who struggle with buying a home.
The Dillons will pay about $75,000 for their three-bedroom home, 155 N. Comfort Court, said Jean Lilley, Habitat executive director.
The market value of the home is $120,000.
"By no means are we giving homes to families," said Alderman. "We're transferring families from inadequate housing to home ownership, at about the same payment that they had."
Each family is required to put about 450 hours of work into constructing Habitat homes, including their own. In exchange, they receive an interest-free mortgage on their home and pay only for the supplies that go into building it.
Habitat depends on the families and community volunteers to help build the homes.
The Comfort Neighborhood is unique because 16 Habitat homes are being built next to one another, allowing neighbors to mutually help with construction.
"I don't think that there will be a better neighborhood in town," said Toni Husted, a soon-to-be Habitat homeowner. "We're kind of like family; we grow together."
Learn more
An informational meeting will take place at 7 p.m. Wednesday at Plymouth Congregational Church, 925 Vt., for anyone interested in owning a Habitat for Humanity home in the Comfort Neighborhood.
Applicants must currently live in inadequate housing, have a stable income and be willing to help with the building process.
For more information, call Habitat at 832-0777.
Copyright 2018 The Lawrence Journal-World. All rights reserved. This material may not be published, broadcast, rewritten or redistributed. We strive to uphold our values for every story published.