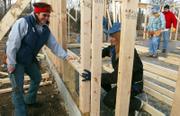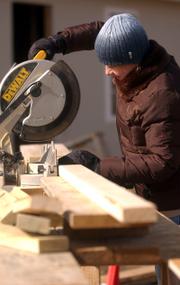 Alice McKinzie drove 2 1/2 hours to work in biting cold temperatures, only because she's a woman.
"To be a part of something bigger than myself," she said.
McKinzie, of Wichita, helped construct the walls of a home in North Lawrence.
Her sister, Kaye McKinzie, stood on the other side of the wood and carefully bolted the boards to the foundation.
"It's a day of empowerment," she said.
The sisters, both wearing carpenter's belts, are dedicated volunteers to Habitat for Humanity.
"Women raised the money, women plan to build it and we're building it for a woman and her children," said Jean Lilley, executive director of Lawrence's Habitat. "We've got other homes that the men can build on."
The house will go in Habitat's Comfort Neighborhood, a quiet nook near Eighth and Walnut streets, where the charitable organization is building 16 houses.
"Women are perfectionists," said Toni Husted, who will eventually own the home. "I have no doubt in my mind that my house will be one of the sturdiest on the block."
After Husted helped her three children drive nails into boards as a part of Habitat's traditional nail-driving celebration, she stayed in the brisk winds and continued beating nails into boards that will become her shelter.
Other women ran to their cars after the ceremony and said they'd be back to help build when it was warmer. A majority of volunteers working on the house Saturday were men.
"That will definitely change," said Janet Smalter, Women Build construction manager.
Construction on the house will continue every Saturday through June, Lilley said.
Copyright 2017 The Lawrence Journal-World. All rights reserved. This material may not be published, broadcast, rewritten or redistributed. We strive to uphold our values for every story published.