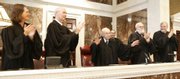 Wichita — U.S. District Judge Wesley Brown was honored Friday as not just an old judge, but a great one.
A week after turning 100, Brown stoically sat on the bench for a courtroom ceremony as hundreds of colleagues, friends and family members marked his birthday.
He listened patiently to the accolades, laughing at times as friends recounted fond memories. They lauded him as a humble and caring person, called him an inspiration, and praised his common sense.
"This is a great opportunity because I get to attend my own wake," Brown quipped later.
Brown is the oldest federal judge in the nation still hearing cases. At least two other sitting federal judges - one in New York City and the other in Cincinnati - are in their 90s, said Dick Carelli, spokesman for the federal court in Washington, D.C.
Appointed by President John F. Kennedy on April 12, 1962, Brown has presided over a variety of cases in his 45 years on the federal bench. His judicial career has reflected the changes in federal civil rights and environmental laws and the proliferation of federal criminal laws.
He presided over one of the most expensive cases in Kansas history - a multimillion-dollar dispute over who owned the helium in natural gas. The case began in 1963 and lasted 25 years.
During his tenure, Brown has served under 26 U.S. Supreme Court justices, four chief justices of the United States, and 33 U.S. Circuit Court judges, said Deanell Reece Tacha, chief judge for the 10th U.S. Circuit Court of Appeals.
"Now that is a lesson in tolerance and adaptiveness," she said.
John Roberts, chief justice of the United States, thanked Brown in a video message for his service, telling Brown that he demonstrated his respect for the rule of law.
"You have passed on to all of us a legacy of pride in our nation," Roberts said.
Among the 18 law clerks who served during Brown's tenure was Monti Belot, now a U.S. District Court judge serving in the same courthouse. He called him a great teacher and practitioner of the law.
"It is impossible to place a value on the profound influence he has had on our careers and our lives," Belot said.
His son, Miller Brown, said his father never doubted the essential justice of the law. He called his father "extraordinary."
"He didn't want to be known just as an old judge, but a good one," Miller Brown said, his voice choking with emotion. "You are not just an old judge, but a great one."
Copyright 2018 The Associated Press. All rights reserved. This material may not be published, broadcast, rewritten or redistributed. We strive to uphold our values for every story published.