Kansas City, Kan. — The crowd was giddy with anticipation before it turned raucous with celebration Tuesday night at the Woodlands Racetrack in Kansas City, Kan.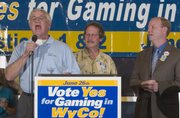 It was celebrating approval of a gambling referendum by more than 80 percent of Wyandotte County voters to allow a state-owned casino in the county and slot machines at the Woodlands. Gambling proponents began celebrating their presumed victory at 7 p.m.
Of the county's 84,387 registered voters, 19,797 votes were cast, for a 23.5 percent turnout.
It was a safe bet, after all: In a 1996 nonbinding referendum, 82 percent of participating voters had said yes to a casino in the county, and there was no organized opposition to this year's initiative.
After about 75 of the county's 111 precincts' results appeared on the dozens of screens in the restaurant and bar at the Woodlands displaying election results, Kansas City, Kan., Chamber of Commerce President Cindy Cash called approximately 200 business and government leaders there to gather around a lectern and with her cheer "Yes!"
Then Cash introduced mayors Joe Reardon, Clausie Smith and Heinz Rodgers, of Kansas City, Kan., Bonner Springs and Edwardsville respectively.
Cash and the mayors led a toast for the approval of each question on the ballot before each mayor spoke, with a "Yes!" and a drink for each.
The county's vote, Reardon said, "lays a foundation for great things to come in Bonner Springs, Edwardsville and Kansas City, Kan."
Citing an interlocal agreement among the three cities in Wyandotte County, Reardon told the crowd "that we will get the highest quality of development and lift every corner of this county."
Alluding to the same agreement, which guarantees a minimum percentage share of tax revenue for each city, Smith said: "No matter where the casino goes, each city is a winner."
The construction of the privately run, state-owned casino is expected to begin in two to three years, Reardon said at a previous news conference.
Jayme LaRocca, general manager of the Woodlands, said he expected the temporary placement of 800 slot machines in the facility's grandstands as soon as early 2008, while a permanent building to house them would be completed by the fall of 2008.
A Kansas law passed this spring allows gambling in four areas of the state. Ford County also had its election Tuesday, Crawford County conducted its advisory election in 2004, Cherokee County voters approved their June 2 referendum on the issue and Sedgwick County will vote Aug. 7.
Copyright 2018 The Lawrence Journal-World. All rights reserved. This material may not be published, broadcast, rewritten or redistributed. We strive to uphold our values for every story published.