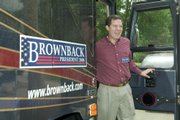 Adel, Iowa — Republican presidential hopeful Sam Brownback is playing to the sensibilities of Iowans who expect a firsthand look at candidates vying for the White House.
The Kansas senator on Monday launched a four-day, 27-stop tour through Iowa, where he'll visit city parks and town squares in a tour bus plastered with his name. His wife, Mary, and his two youngest children, Mark and Jenna, both 9, are along for the ride through Iowa, which kicks off the presidential nominating season with its precinct caucuses.
During his fifth stop of the tour in Adel in central Iowa, Brownback said he was enjoying the road trip and hopes to attract attention to his message of uniting conservatives.
"I'm a full-scale economic and social conservative - I am a bleeding heart conservative, if you will," he said during the rainy event on Monday afternoon. About a dozen supporters gathered to listen to him talk about curbing spending in Washington, battling Islamic fascism and changing Social Security.
Neta Kirk, of Adel, said she likes the family values maintained by Brownback, as well as his experience in the Senate, where he has served since 1996.
"It sounds like to me that he's got some good moral values," said 49-year-old Kirk, who added that she'll be watching other conservatives to see if they can measure up. "Right now I'm listening and comparing and trying to sort through who's for what."
Brownback has received far less national media attention than Republican front-runners Rudy Giuliani, John McCain and Mitt Romney. He said he's willing to put in the extra effort to reach voters.
"I guess that's what I learned growing up on a farm. You get up early, you work hard and you go to bed tired," said Brownback, who grew up on a farm in Parker, Kan.
Monday's portion of the tour, dubbed "Ames to the White House," takes Brownback through central Iowa. He'll be in northern Iowa on Tuesday, eastern Iowa on Wednesday, and wraps up the estimated 1,200-mile tour on Thursday making his way back to his campaign office in Ames in central Iowa.
The tour was part of Brownback's 25th visit to Iowa, and he emphasized that he'll be in the state often before taking part in the Republican Party of Iowa straw poll in Ames on Aug. 11. Other candidates, including Giuliani and McCain, said they will skip the event, which is a huge fundraiser for the party.
"Some of the candidates are bypassing Iowa. I'm not," Brownback said.
Copyright 2018 The Associated Press. All rights reserved. This material may not be published, broadcast, rewritten or redistributed. We strive to uphold our values for every story published.