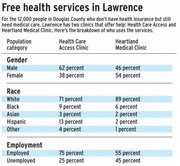 Chat about the uninsured with Nikki King
More than 12,000 people living in Douglas County don't have health insurance. It's a number that has skyrocketed in the past decade regionally and nationally. Nikki King executive director of Health Care Access will chat Monday about who makes up the uninsured population in Douglas County.Submit a question
Funding for clinics
Health Care Access Clinic, 1920 Moodie Road, and Heartland Medical Clinic, 1 Riverfront Plaza, rely heavily on donations and outside support to keep the doors open. In both cases, what patients pay covers little of the operating costs.
For Health Care Access, a large part of its operations are doable because of in-kind donations: volunteer doctors, free medicine from pharmaceutical companies and services provided from the hospital. The clinic also receives money from the state, county and city, and local nonprofits. In 2005, the city chipped in about $17,000 and the county $13,000.
And, of course, the clinic does fundraising and accepts donations.
Heartland Medical Clinic is part of The Leo Center, a local Christian outreach and ministry nonprofit. The majority of its funding comes from church and individual donations.
For the first time, the clinic is asking for money from the city this year. It also is applying for other government grants.
Health Care Access serves only those who are from Douglas County, are without health coverage and meet the clinic's income guidelines. A family of four cannot make more than $3,083.33 a month. A $10 fee is requested, but no one is denied care if they can't pay.
Heartland Medical Clinic takes those who have insurance, are on Medicaid or don't have insurance. They too do not deny medical help for those who can't pay.
The cost of a doctor's visit at the clinic depends on the person's income, but the most patients will pay for a doctor's visit is $30.
Earlier this month, 53-year-old Desiree Stephenson biked over to the Health Care Access Clinic to take care of an itch.
She has an auto-immune disease that can flare up with stress and sun and needed some medication to stop the itching from a rash that had spread up her arms.
Stephenson doesn't have health insurance. Working as a customer service representative, she said it would cost $120 a month to be covered. And even then, she would have to pay the medical bills up front and be reimbursed by only 40 to 50 percent.
"I can't afford it," Stephenson said. "I live paycheck to paycheck."
For the past year and half, Stephenson has gone to one of two clinics in Lawrence that provide services for those without health insurance. Stephenson - who already has made five to six visits to the clinic - said she is also treated for high cholesterol, a thyroid problem and depression.
Without the clinic, she said she would either be "extremely sick or dead."
In almost every way, Stephenson represents the most common patient that walks through the clinic's door. She is a white woman between the ages of 22 and 59, and has multiple health issues and a job.
A gap
Stephenson is one of more than 12,000 people living in Douglas County who don't have health insurance.
It's a number that has skyrocketed in the past decade regionally and nationally, Dr. David Goering said.
Goering is a doctor at Lawrence Memorial Hospital and on the board of directors of Health Care Access, 1920 Moodie Road.
"The cost of insurance alone has gone up tremendously, a lot faster than the increase in inflation and the increase in the average worker's earnings," Goering said.
Janice Friedman works for the Kansas Department of Social and Rehabilitation Services helping clients in need connect to other social service agencies.
Part of the problem, she said, is a gap of people who aren't poor enough to qualify for government assistance but don't make enough money to pay for health insurance.
"The biggest thing is people fall through the cracks," she said.
The demographics
At 59, Rosemary Beers fits into Health Care Access' most common demographic. The bus driver was waiting for a prescription at Health Care Access on what was her first day of radiation treatment for breast cancer.
Beers said she could get insurance through her employer, but when her health history was factored in, the rate would be just too high or she might not even qualify. She has been diagnosed with cancer three times and has diabetes.
"I'll tell you, if this wasn't here, I'd probably be in a wheelchair now," she said.
Statistics kept at the Health Care Access Clinic show that last year more than 60 percent of the patients were women, 71 percent white, 81.6 percent between the ages of 22 and 59, and the majority had jobs.
However, a day spent in the waiting room of the clinic shows a demographic that goes far beyond those numbers.
The patients included mostly women but also some middle-aged men. Patients ranged in age from 8 years to almost 80. Some spoke Spanish, others French. Most had jobs, but some were recently out of work, and one woman had been homeless for years.
Among their ailments were breast cancer, back pain, muscle strain, high blood pressure, swollen hands, a fractured nose and a fluttering heart.
None of them had health insurance.
The cost
Across town, at the Heartland Medical Clinic in Riverfront Plaza, a similar demographic emerges. About three-fourths of the patients that come to the clinic do not have health insurance. The price of a doctor's visit at the clinic is based on a sliding scale and depends on the patient's income.
Nearly 90 percent of Heartland's patients are white, 55 percent are employed, 54 percent are female and the most common age bracket is between 45 and 64.
Less than a week after a hospital stay, 59-year-old Doris Goodlett was in for a visit to make sure her new medicine meshed with her old ones. She has diabetes, congestive heart failure and no insurance.
"I'm not working, and my husband is the only one working," Goodlett said. "He makes $8.50 an hour, and we can't afford the $300 to $400 a month on top of all of our bills."
Goodlett said she was reluctant to go to the emergency room because her last trip more than 10 years ago resulted in a $16,000 bill. At $100 a month, it took years to pay it off.
This time around, Goodlett said she applied for a grant that would cover her hospital stay.
"Hopefully, they will OK it, otherwise we will just have to do," she said.
Without Heartland Medical Clinic, Goodlett said she wouldn't go to the doctor. The clinic also helps Goodlett access cheaper medicine, cutting hundreds of dollars a month off the price.
Both the Heartland Medical and Health Care Access clinics use programs set up by prescription drug companies who supply free drugs. Each clinic received about $1 million worth of free medication last year from these programs.
Finding care
For the past six or seven years, Bonnie Davis has been coming to the Health Care Access Clinic. She's been unemployed for about three months. Paying the $300 a month needed for health insurance is out of the question.
But she can usually afford the $10 per visit donation request the clinic makes. And, if she needs drugs, she relies on the samples the clinic keeps on hand.
"It's either come here or go to the emergency room, and I can't afford no emergency room," Davis said. "When you get done there, it is $500 to $600."
Many of the uninsured, however, do end up in the emergency room for care, Goering said. Goering cares for the uninsured patients after they are treated at the emergency room and then admitted into the hospital.
"It is sort of a perennial problem in our society that people who don't have insurance end up getting the most expensive source of their care being from the emergency room," Goering said.
The Health Care Access Clinic has helped keep at bay the number of people coming into the ER, which lowers the amount of bills that go unpaid at the hospital, Goering said. And, in return, the hospital is a major partner with the clinic, donating close to $2 million in lab work and other services.
For both Health Care Access and the Heartland Medical clinics, diabetes and hypertension top the list each year of ailments their patients have. Another common problem is depression. Others have asthma or trouble with their eyes, nose and throat.
And most of the patients have more than one ailment.
"They hardly ever come in with one thing," said Renee Caldwell, grant writer for Heartland Medical Clinic.
Young adults
Barb Langner helped the Kansas Health Policy Authority compile data on the uninsured. She said the most likely uninsured person is between 19 and 28 years old. That demographic tends to be healthier, have jobs that don't come with insurance and a mentality that they are somewhat invincible, Langner said.
Langner also said studies show that those without health insurance divide pretty evenly between men and women. However, literature indicates that women are more likely to seek services than men, which could explain why a higher percentage of women are reported at the two local clinics.
While Langner said Douglas County is lucky to have two clinics that serve the uninsured, she noted they are a different kind of health care provider than the traditional doctor's office.
The patients tend to use the clinics for urgent care rather than managing chronic illnesses, screening or preventing health problems.
"People who don't have health insurance delay care, go for care when they are sicker, don't get preventive health," she said. "They don't have a medical home, and that obviously cuts into productivity, quality of life and has a lasting impact. Access to health insurance is important."
Copyright 2018 The Lawrence Journal-World. All rights reserved. This material may not be published, broadcast, rewritten or redistributed. We strive to uphold our values for every story published.