Photo Gallery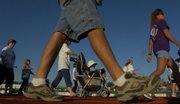 Relay for Life
For Dale Bellinger, early detection of lung cancer four years ago gave him his best chance at surviving, even if the detection was unintentional.
Bellinger might have found out about his lung cancer much later if it weren't for a stomach infection he was suffering.
When a technician took an X-ray too high on Bellinger's torso, his life changed. Doctors inadvertently discovered he had a tough case of lung cancer.
"It's scary," the longtime Lawrence resident said. "You don't know what's going to happen."
What happened to Bellinger was a three-month stay in the hospital and surgery to remove his lung cancer.
"He had a terrible stay in the hospital," his wife, Thelma Bellinger, said.
But four years later, Dale Bellinger found himself among nearly 200 other cancer survivors as they took a ceremonial lap on the Free State High School track for the first year of the Douglas County Relay for Life.
"Which I think is the most we've had take part in the survivors' lap," said Tina Yates, co-chairwoman of the Douglas County Relay for Life.
Those 200 or so cancer survivors from the area were cheered by nearly 900 participants and onlookers who came out to the Free State track on Friday for the 12-hour event to benefit the American Cancer Society.
The event registered 74 teams, which will be represented at all times by at least one team member walking or jogging laps around the track until 7 this morning.
Yates said the event raised more than its $155,000 fundraising goal, although organizers didn't have a final dollar amount to report Friday.
This year was the first year that the local Relay for Life event was expanded to include all of Douglas County rather than only Lawrence.
Yates said more teams participated, although there weren't as many people representing towns outside of Lawrence as organizers had hoped.
"Our goal for next year is to reach other communities," she said.
Copyright 2018 The Lawrence Journal-World. All rights reserved. This material may not be published, broadcast, rewritten or redistributed. We strive to uphold our values for every story published.