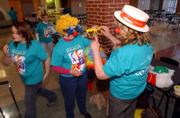 Something as simple as a lap around the track became a major part of Jennifer Kulseth's recovery from cancer.
A year and a half ago, the then-28-year-old Lawrence resident learned she had melanoma - otherwise known as skin cancer.
Among the hardships cancer brought to her life, Kulseth found it difficult to talk with others about her condition.
That barrier came down when Kulseth took a lap on the track at Free State High School the following summer, like so many other cancer fighters and survivors at the Relay For Life.
"To get out there, that wall had come down and I was OK saying I had this," Kulseth said.
Now Kulseth feels better and plans to participate in Relay For Life whenever she can.
This year, she will participate again at Free State, but it will be called Douglas County Relay For Life, instead of Lawrence.
Organizers of the event, which starts at 7 p.m. June 8, expect to raise at least $155,000 - $5,000 more than the year before. Proceeds benefit the American Cancer Society.
"We would like to increase that," said Tina Yates, co-chairwoman of the Douglas County Relay For Life. "Especially considering we're going countywide and not just Lawrence."
Yates was at the kickoff event to help organize teams for the relay - a 24-hour event where teams have at least one member circle the track at all times.
The deadline to register a team is mid-April, Yates said.
Join in
To register for the Douglas County Relay for Life or for more information, log on to www.acsevents.org/douglascountyrfl or call (800) 359-1025.
Copyright 2018 The Lawrence Journal-World. All rights reserved. This material may not be published, broadcast, rewritten or redistributed. We strive to uphold our values for every story published.