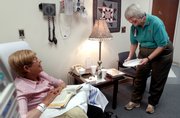 Douglas County Relay for Life
The Douglas County Relay for Life will be from 7 p.m. Friday to 7 a.m. Saturday at the Free State High School track, 4700 Overland Drive. The theme will be "Carnival for a Cure."
Starting at 5 p.m. Friday there will be a moonwalk, children's games and food concessions, followed by a silent auction at 6 p.m. Activity bracelets for admittance to the children's games and moonwalk will be on sale for $5 at the registration tent.
At 7 p.m., about 200 local cancer survivors will kick off the event by taking the first lap around the track. The luminaria ceremony begins at 9 p.m. and will feature a program of speakers, including Dr. Sharon Soule of Lawrence Memorial Hospital's Oncology Center, Pat Slabaugh of Douglas County Bank and cancer survivor Eileen Huffman. During this ceremony, thousands of luminarias will be lit in honor of survivors and in memory of lives lost to cancer.
Anyone wanting to purchase a luminaria or make a donation may do so at the event. For more information, contact Tina Yates at 749-2985.
The event is a fundraiser for the American Cancer Society, which works to find ways to prevent, detect and treat cancer.
Hope.
It's a small but meaningful word for Lawrence cancer survivor Dianna Nelson, who wears a purple-and-white bracelet with "hope" inscribed on it.
That same four-letter word will help inspire Nelson and others at Friday's Douglas County Relay for Life when it is spelled out in hundreds of luminarias that honor those stricken by cancer.
Nelson recalled seeing hope for the first time shortly after being diagnosed with breast cancer May 8, 2002, at age 54.
"I don't know why that just struck me," Nelson said. "I just got the best feeling. It gave me the strength to get through that next year."
Nelson decided to attend her first Relay for Life - an annual 12-hour event that benefits the American Cancer Society - after seeing fliers at Lawrence Memorial Hospital's Oncology Center. She went after having her second chemotherapy treatment that day.
"I felt strong enough to kind of go out and see what it was all about. I had to put on a hat because I was starting to lose my hair," she said. "When I saw all of the participants and the survivor lap and the luminaria ceremony, it was just really inspiring."
That lap served as a motivational tool for Nelson as she faced a lumpectomy in August and radiation treatments.
"I told my husband, 'Next year, I am going to be back here. I am going to be a survivor. I am going to participate,'" she said.
And she did. She and her husband, Steve, were part of the First Christian Church team.
She became team captain in 2004. That same year, she had a recurrence of cancer.
"There was a lot of pain in my hip area and I just had to have radiation for that," she said. "It kind of caused me to take an even longer look at life."
As part of that re-evaluation, she retired from working in the Douglas County Childhood Development Association office and began serving as an inspiration to others through support groups such as Bosom Buddies and by volunteering.
For nearly three years, she has been a volunteer in the Oncology Center, where she works from noon to 4 p.m. Wednesdays. While there, her jobs include serving and transporting patients, cleaning rooms and running errands.
Stephanie Norris, a registered nurse at the center, said while Nelson provides those valuable services, she also can relate to what the patients are going through.
"I think she knows what it is like to be sitting in that treatment chair," Norris said.
Wellsville native Ardena Yakle, who was receiving a treatment Wednesday, agreed.
"I think it's nice to have a volunteer here who has been through chemo and the radiation and everything else," said Yakle, who had a mastectomy in March and will be undergoing treatments until August. "When you see people who have survived it, you think you can, too."
Yakle plans to follow in Nelson's footsteps and participate in her first Relay for Life on Friday. And Reaumur Donnally, also an Oncology Center volunteer, plans to cheer them on. He said the event can be motivational for anyone.
"The first lap is inspiring. You see the courage and optimism of cancer survivors of all ages," he said. "It's a culture for healing, helping and moving forward."
That's exactly what Nelson has done. She now serves on the Relay for Life committee and is committed to raising awareness about cancer. The American Cancer Society estimates about 2.5 million new cancer cases will be diagnosed this year.
"It's just amazing how much cancer touches lives these days," Nelson said. She never expected to become a victim because it wasn't something that had been in her family. Now she urges her grown children - Donna Binns and Chris Nelson - to take extra precautions.
Living through the ordeal has given Nelson a new perspective on life.
"You value life more and you live for the day rather than worry about what's going to happen in the future or what's happened in the past," she said. "I think it does change how you feel about life and people."
Copyright 2018 The Lawrence Journal-World. All rights reserved. This material may not be published, broadcast, rewritten or redistributed. We strive to uphold our values for every story published.