David Bach has had quite a few friends and customers affected by breast cancer. He also has a wife and four daughters.
"Fighting breast cancer - it's something that should be important to everyone," Bach said.
So when Bach, the owner of Das Autohaus Inc., was approached about donating a Volkswagen Beetle to help raise awareness and money as part of the Stepping Out Against Breast Cancer Dance, an annual event held to pay for mammograms for uninsured women, he agreed.
"This is a good cause and it felt good that I had a chance to help with it," he said.
This is the first time a car giveaway has been associated with the events tied to Stepping Out, said Nancy Thellman, chairwoman. The events are part of local activities being held for Breast Cancer Awareness Month.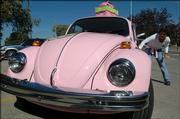 People can enter a drawing for the newly renovated, pink 1976 VW Beetle by making a $10 donation. The drawing for the car will be held at the dance, which will be from 8 p.m. to midnight on Oct. 29 at the Lawrence Holidome, 200 McDonald Drive.
"It's a great little car and just fun to drive," Thellman said. "And the money is for a good cause."
It's hoped that the pink bug will attract $10,000 in donations.
Last year, the Stepping Out Against Breast Cancer Dance raised about $35,000. Of that, about $18,000 was used to provide mammograms for uninsured and underinsured women in Douglas County and about $15,000 was donated to Lawrence Memorial Hospital's Breast Center.
Tickets for the dance cost $25 per person. Tickets may be purchased and donations made to enter the Beetle drawing at the east information desk at LMH, 325 Maine; Das Autohaus, 1045 N.J., Weavers, 901 Mass.; and the offices of radio stations KLWN-AM 1320, The Lazer 105.9 and 92.9 Max, 3125 W. Sixth St. Tickets may also be purchased by logging on to www.lmh.org and clicking on the Events and Education Calendar, at the door or by calling 749-5800.
Thellman also said the car should appear at various area banks and stores during the next two weeks. People can enter the drawing for the Beetle at those yet to be named, featured locations.
Special month
The following are events being held in association with Breast Cancer Awareness Month: ¢ Breast Health Symposium - 6:30 p.m. to 8 p.m. Monday, Lawrence Memorial Hospital, 325 Maine ¢ Stepping Out Against Breast Cancer Dance - 8 p.m. to midnight Oct. 29, Lawrence Holidome, 200 McDonald Drive ¢ KLZR/KLWN are featuring breast cancer survivor stories throughout the month ¢ "Healing Through the Arts" exhibits are at the Lawrence Arts Center during October
Copyright 2018 The Lawrence Journal-World. All rights reserved. This material may not be published, broadcast, rewritten or redistributed. We strive to uphold our values for every story published.