Twenty newly designated citizen journalists graduated from the second Citizens Journalism Academy sponsored by The World Company and the William Allen White School of Journalism and Mass Communications at Kansas University on May 21.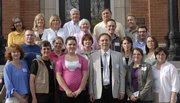 Cody Howard, 6News director and CJA coordinator, said, "The first academy last fall was such a success, we decided to do a second one. The media has taken such a bad rap the last few years; we were interested in creating an open door and transparency with the public.
"People want a voice, and we want to create a new definition of community. We decided we should reach out and give interested citizens the guidelines and skills to participate."
Ann Brill, KU's journalism dean, remarked at the CJA opening, "Because of advances in technology, reporting has changed and blurred the lines between citizens and journalists. In a world where citizens now carry camera phones, video recorders are plentiful, and breaking news is online and televised instantaneously, a relationship between the citizenry and media is more important than ever."
CJA participants from a wide array of professional and educational backgrounds with an interest in journalism were selected from more than 60 applicants. Participants, known as fellows, included a high school student, homemaker, school administrator, rural mail carrier, biologist, social worker, teacher, military veteran, aviator, plumber, attorney and engineer.
"I really enjoyed the composition of the class," said Matt Fearing, a CJA fellow. "I had the opportunity to interact with many new people. It was great sharing and learning with people who have a similar interest in journalism."
Fellows attended five consecutive Monday evening sessions at The World Company's News Center at Seventh and New Hampshire streets. Fellows engaged in group discussions focusing on interviewing techniques, how to report a story, ethics, multimedia and the editorial process.
They were given writing assignments under editors' and professors' guidance. Assignments included interviewing and reporting on a CJA fellow, a Lawrence public official and a neighborhood street needing repair, and submitting a story for "24 Hours in Lawrence," a project by the Lawrence Journal-World and 6News that was reported May 10.
Fellows posted stories to a blog where classmates could comment. World Company editors and KU professors critiqued the writing assignments. Some of the stories were printed in the Journal-World or posted on the Internet at LJWorld .com.
"The assignments made the whole experience more real," fellow Denise Gossage said. "I learned a lot by actually doing the kind of work real journalists do.
"Each assignment brought out the issues and decisions that make news production a challenge. Interviewing people for the assignments was very educational, something I have never done before. The critiques were very helpful and opened my eyes to changes I need to make in the current state of my writing."
Upon graduation, fellow Debbie Pepple said she now has "tremendous insight into what it takes to pull together news and information for TV, the newspaper and online. Each medium has its own criterion that serves a specific purpose within our community, and learning what is required and how to keep each medium relevant was fascinating.
"Journalism is not for the faint of heart. Pulling it all together requires tremendous knowledge and skill."
Asked if her view of the media changed after graduating from CJA, fellow Laurie Comstock said she "gained respect for the challenges in presenting the news at the right time and in the right way for people who come from all different walks of life and who have many different expectations from the media.
"What did not change is the importance of getting facts straight or not telling the story at all."
Fellows Linda Hanney, Alison Carter and Dee Ann Raker were elected to a CJA Advisory Board to represent class members at future sessions and assist in the preparation of the next academy.
A third Citizen Journalism Academy is planned for next fall.
Copyright 2018 The Lawrence Journal-World. All rights reserved. This material may not be published, broadcast, rewritten or redistributed. We strive to uphold our values for every story published.