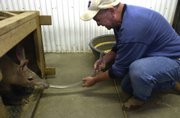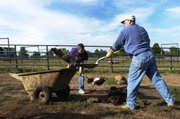 Salina — Motomba was hungry, in a sour mood and interested only in the seven pounds of meat for his once-daily meal.
And when he discovered the meat tray inside his shelter at zoo at Rolling Hills Wildlife Adventure wasn't yet available, the beautiful African lion became enraged.
He rushed to the outside holding pen and lunged at visitor Don Weiser, senior vice president of the Salina Area Chamber of Commerce. Motomba's pen mate, Simba, also vigorously expressed his displeasure.
A layer of heavy steel fencing was all that kept Weiser and his boss, chamber President and Chief Executive Officer Dennis Lauver, from being the lions' appetizer.
The men, who have made it a point to experience others' jobs, were relieved but noticeably stunned by the ferocious display.
"It got the adrenaline flowing. That's for sure," Weiser said.
This bit of drama in early July provided memorable flavor for another episode of Dennis and Don Do My Job, a chamber program designed to connect its leaders to the membership.
"I can close my eyes and still see that lion running at me and jumping up on the cage," Weiser said. "It drove home the point about what those people do out there. About how you need to be on your toes at all times. You can't let down."
Anteaters and aardvarks
The lions won't soon be forgotten. Neither will feeding fruit to ringtailed lemurs, or blending gruel with bananas for three aardvarks, and gruel with avocado for a giant anteater.
Their experiences behind the scenes were enlightening to the chamber leaders. Among their duties was harvesting meal worms that are grown at the zoo, placing them in a clear plastic tube and watching an aardvark fish them out with his long tongue.
Lauver and Weiser also placed special omnivore biscuits in a water bottle for Boo-Boo the Andean bear to retrieve, and fed alfalfa pellets and brome hay to five rhinos.
"You don't know what those people go through and what it takes to work at this zoo. They take it seriously," Weiser said. "They're so proud of what they do, and they want to show us."
'Worse than diapers'
But for the honorary interns, poop was a common thread at Rolling Hills.
With rakes, shovels, bags and a wheelbarrow, Lauver and Weiser removed varying quantities - and odor intensities - of droppings from the pens.
"Oh, cover that up. That is really vile, worse than a baby's diaper," Lauver said as he removed manure from Boo-Boo's pen.
Pen-cleaning is a daily chore for the keepers. If you don't keep them clean, you'll regret it for hygienic and workload reasons, rhino keeper Manuel Martel said. Together, the 6,500- to 7,000-pound animals produce 300 to 400 pounds of manure each day.
Lauver and Weiser never complained.
"We just met a bunch of people who are thrilled with their jobs," Lauver said as he was delivered by golf cart to his car.
The chamber staff developed the program to bring Lauver, who began Nov. 13, and Weiser, a veteran of 32 years with the chamber, closer to the people who drive commerce in Salina.
"It gives me some real-world opportunity to do my job better. It's important that people understand that their chamber executive isn't always inside in the corner office in a suit and tie," Lauver said. "This whole thing is about celebrating our members and having a good time."
Odd jobs
Since February, the chamber pair have served food at a Salina McDonald's restaurant, helped prepare meal ingredients and washed dishes at Best Dinner, cut flowers and made bouquets at the Flower Nook, hosted the "Friendly Fire" talk show on KSAL radio and helped with enrollment at Kansas State University at Salina.
Last Thursday, they served as hosts at Martinelli's Little Italy restaurant. Dressed in black pants, black ties and white shirts, Lauver and Weiser also bussed tables and filled water glasses for guests.
It wasn't a stunt, Martinelli's owner Tony Dong said.
"They worked really hard for two hours. They cared about the job they were doing. It wasn't all fun and games," he said.
The visit was good public relations for both the restaurant and for the chamber, Dong said.
"I get guys like that intermingling with my guests. It's just exciting for the employees, to have some different people working in there," he said.
During Administrative Professionals Week in April, the Dynamic Duo launched the Dennis and Don Bouquets at the Flower Nook.
"A couple of guys who have no background in floral design came in and we gave them a model, an example. They made maybe five of six arrangements apiece. We just had a good time," said Wayne DeBey, who co-owns the business with his wife, Peggy.
It sent a message that the chamber is "very approachable," Wayne DeBey said. "I like knowing that they are paying attention to small, independent retailers."
The Flower Nook provided Lauver an international vision of doing business in Salina.
"Here's one of multiple flower shops in Salina. Don and I are cutting flowers that were in Colombia (South America) four days ago. It illustrates to me that we really do have a global economy," he said.
So, what does this mean?
For Lauver, the time spent scooping manure and creating floral arrangements means more than just getting to know Salina's employers and work force. The knowledge he's gained can only help as the chamber formulates an economic development plan with such elements as job creation, capital investment and labor.
The visits have given them "an unfiltered opportunity to know what's going on," he said.
That can prove valuable, as it did in early July, for instance, when he talked with Rep. Jerry Moran, R-Kan. He was able to tell Moran, "People like working here, but they have challenges finding housing."
And down the road, he said, the chamber might have to market Salina to prospective employees who fit a particular demographic he's met on the job.
Copyright 2018 The Lawrence Journal-World. All rights reserved. This material may not be published, broadcast, rewritten or redistributed. We strive to uphold our values for every story published.