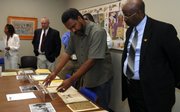 Members of the Kansas African American Affairs Commission are looking to advocate for economic development, health care and education policies that will benefit minorities.
"We've really engaged in the last few years to make state government more culturally competent because people who are going to be affected by policy are now at the table helping create that policy," said Danielle Dempsey-Swopes, the commission's executive director.
The commission, made of seven governor-appointed members, has taken a more active role in developing policies the last few years, after initially helping organize cultural and community programming.
Commissioners, including Kansas University associate film professor Kevin Willmott and Deborah Dandridge, a field archivist at the Spencer Research Library, met Wednesday at the Spencer to review their strategy.
Dempsey-Swopes said discussions have focused on issues that affect minorities, including expanding successful economic development projects, such as in northwestern Wyandotte County.
"One of those concerns is how do you get that same kind of vigor and development in ... the rest of Wyandotte County where there's a significant African-American population," she said.
Commissioners also participated in a reception Wednesday that included KU Libraries Dean Lorraine Haricombe; Maurice Bryan, KU's new associate vice provost for diversity and equity; and Don Steeples, vice provost for scholarly support.
Commissioners touted past success, such as working with state legislators to pass a 2005 law prohibiting racial profiling, which includes requiring all law enforcement agencies to have a policy against it and to engage in annual diversity training.
"I would say I've seen more positives," said Curtis Whitten, the commission's chairman and a Wichita businessman. "Although we've made some strides in certain areas, there's still a lot of work to be done."
Commissioners on Wednesday also viewed the African-American Experience collection at the library.
Copyright 2017 The Lawrence Journal-World. All rights reserved. This material may not be published, broadcast, rewritten or redistributed. We strive to uphold our values for every story published.