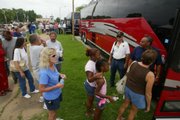 Wichita — Floodwater receded from most sodden neighborhoods in Coffeyville, giving many residents Monday their first well-orchestrated glimpse of the devastation left behind by an oil spill amid the torrential rains that flooded their town.
City officials gave residents bus tours into once-flooded sections, but kept people on the buses because of fears about health hazards left behind by the contaminated water.
"A flood can pose more human health hazards than a tornado because floodwaters carry contaminants and bacteria. Fecal coliform levels is just one example of the concern," said Sharon Watson, spokeswoman for Kansas Emergency Management.
Two floodwater samples from Coffeyville showed the level of fecal coliform bacteria was more than 130 times the standard, the U.S. Environmental Protection Agency said. The bacteria can cause stomach ache, fever, vomiting and diarrhea. A cut or a wound at the point of contact with the bacteria can lead to fever, redness and swelling, the EPA said.
Even though most of the floodwater has receded, people would have to walk through some pockets of it or touch it as they go through their homes.
A few areas are still under water and search efforts continue, though there have been no reports of any missing persons, Watson said.
At the Coffeyville Resources refinery, most water is out of the processing areas, said Steve Eames, refinery spokesman. The tank farm area, which is inside a diked area, remained flooded.
As of Monday, the company has received more than 600 calls from residents and businesses making claims stemming from an estimated 71,400 gallons of crude oil that mixed with floodwater when the Verdigris River swelled over its banks from torrential rain.
The refinery has hired The O'Brien's Group, a company with experience in the Murphy Oil spill in Meraux, La., after Hurricane Katrina, to help recovery efforts in Coffeyville, Eames said.
Copyright 2018 The Associated Press. All rights reserved. This material may not be published, broadcast, rewritten or redistributed. We strive to uphold our values for every story published.