COFFEYVILLE — Contractors and environmental officials are considering cleanup options in this southeast Kansas town a week after 71,400 gallons of crude oil mixed with floodwater.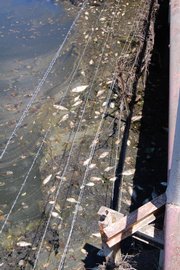 The oil that spilled from the Coffeyville Resources refinery coated houses and lawns in a slimy, smelly goo. It prompted a class-action lawsuit in federal court against Coffeyville Resources, said Andrew Hutton, a Wichita lawyer involved in the litigation.
He said the flood was predictable and the refinery should have been shut down sooner.
The lawsuit alleges that more than 200 properties "have been destroyed by these uncontrolled waterborne poisons."
Refinery spokesman Steve Eames declined to discuss the lawsuit. "We're really more focused on the efforts to help the community recover and help get the operations going and helping our neighbors," he said.
He said the refinery has brought in contractors who helped clean up massive oil spills after Hurricane Katrina.
Lawyers for the Coffeyville Resources and the Environmental Protection Agency were discussing what steps would be required to clean up the mess, said Rich Hood, EPA regional public affairs director.
He said the only way to clean heavily contaminated soil is to scoop it up and replace it with good soil.
With less contamination, soil can be aerated so that the oil is worked in and allowed to degrade with biological agents such as enzymes, nutrients or microorganisms. Adding certain bacteria and fertilizers can hasten the process.
The company has set up a toll-free number for residents to report oil damage. Adjusters with the refinery's insurer will be dispatched to inspect the damage. The refinery has pledged that it will clean or repair damage.
"It's really something we have to and want to do," Eames said.
Officials had expected the flooding to stay below the levee, but the river crested at about 4 feet over the barrier.
As floodwaters rose, workers rushed to secure the refinery in six to seven hours. Normally, it takes 24 hours to shut it down.
Hood said the EPA "will get to the bottom" of what caused the leak. He said it was too early for him to comment specifically on the investigation.
Many Coffeyville residents were not being allowed to return to their flooded homes because of high levels of fecal coliform bacteria, which causes stomach ache, fever, vomiting and diarrhea. City officials were organizing bus tours of the flooded area for residents today.
"It's not a sightseeing tour," said Cindy Price, a spokeswoman for Coffeyville. "It will be difficult."
Copyright 2018 The Associated Press. All rights reserved. This material may not be published, broadcast, rewritten or redistributed. We strive to uphold our values for every story published.