New York — If her goal was to erase the memory of the disgraced James Frey, then Oprah Winfrey couldn't have made a better pick for her book club than a memoir by Sidney Poitier.
Winfrey ended a yearlong hiatus in her club by announcing Friday that she had chosen "The Measure of a Man," a "spiritual autobiography" by one of Hollywood's most admired actors - for whom the word "dignified" could practically be copyrighted - and a personal hero of Winfrey's.
Published in 2000, Poitier's book combines memories of such plays and films as "A Raisin in the Sun" and "The Defiant Ones" with observations about the Academy Award-winning actor's childhood, his religious faith, his thoughts on racism and the influence of such world leaders as Nelson Mandela and Mahatma Gandhi.
"He writes really candidly and passionately about his childhood, his family, relationships and his extraordinary career," Winfrey said on her show, which airs from Chicago. "It (the book) really is about what makes character, what makes you be who you are. He is the measure of one of the greatest men I think who has ever been on our planet."
Poitier did not appear on the telecast. But Winfrey said she will host "a once-in-a-lifetime dinner party" with Poitier that will include members of her book club.
In a statement issued Friday by his publisher, HarperSanFrancisco, Poitier said he was "overwhelmed far beyond the point where words, alone, could fully express either my appreciation or my gratitude."
"Meanwhile, I proudly accept this honor on behalf of the forces that brought it about: the love of my parents, the ever-present kindness of strangers, and the hidden mysteries of the universe and, of course, Oprah Winfrey," he said.
"The Measure of a Man" spent several weeks on The New York Times' list of best-sellers, and the audio edition, narrated by Poitier, won a Grammy Award for best spoken word album. Poitier wrote a previous memoir, "This Life," released in 1980.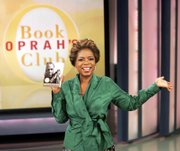 Right before Winfrey announced her selection, the 56th for her book club, "The Measure of a Man" ranked 288,958 on Amazon.com, a number that quickly changed, soaring within hours to the top 5. Winfrey's picks almost inevitably top best-seller lists.
Mark Tauber, vice president and deputy publisher of HarperSanFrancisco, an imprint of HarperCollins, declined Friday to say how many books would be printed, but did say he expects to sell hundreds of thousands of copies.
Tauber also said that, unlike many celebrity memoirists, Poitier did not use a ghostwriter, although the actor did have editorial "help."
"I'm sure there'll be speculation about Winfrey picking yet another memoir," Tauber said. "But Poitier's life is filled with so much integrity."
Winfrey and Poitier have met in the past. During an interview in her own "O" magazine in 2000 - around the time "Measure of a Man" was released - Winfrey and Poitier discussed his life and career; the talk show host confided that she felt like a star-struck fan.
Poitier, who turns 80 on Feb. 20, became the first black performer to win the Oscar for best actor, cited in 1964 for "Lilies of the Field." His other films include "In the Heat of the Night," "To Sir, With Love" and "The Blackboard Jungle." In 2002, he received an honorary Oscar for lifetime achievement.
He should be a welcome break from the travesty of Frey, whose "A Million Little Pieces" was picked by Winfrey in the fall of 2005, only to have The Smoking Gun Web site reveal in January 2006 that the memoir was largely fabricated. Winfrey initially defended Frey, then changed her mind, brought him back to the show and chewed him out.
Copyright 2018 The Associated Press. All rights reserved. This material may not be published, broadcast, rewritten or redistributed. We strive to uphold our values for every story published.