Though retirement often is associated with the golden years, Lloyd Hammerschmidt reverted to his childhood after ending a 30-year career.
Hammerschmidt, who left the family farm near Victoria in Ellis County to work for the Lawrence fire department, went back to the life he had once known after retiring in 1997 as captain.
"I grew up on a farm," he said. "I always wanted to be back in the country."
With years of work on his 80-acre farm in Douglas County and similar conservation measures taken on his 150-acre farm in Ellis County, Hammerschmidt and his wife, Cheryl, will receive a 2006 Kansas Bankers Association Award for soil conservation.
"I was thrilled about it because you put a lot of effort into it," Lloyd Hammerschmidt said.
In 1996, the Hammerschmidts bought a house southeast of Lawrence in the Wakarusa Valley. After a few renovations, an addition to the home and a retirement, the couple left city life for a modest but modern home in the middle of a grand valley, along with 80 acres for farming.
Unlike the family farm in Ellis County, which was used to grow sorghum and wheat along with dairy and beef cattle, the Douglas County farmland is used to grow soybeans and corn, with an occasional wheat crop.
Shortly after the couple moved in, Don and Jeri Breithaupt, who farm the Hammerschmidts' land, informed them they had problems with drainage and subsequently erosion.
"I think the Breithaupts, they're good farmers. They're really conscious about the soil and make sure they drain properly. We appreciate everything they do," Lloyd Hammerschmidt said.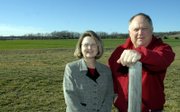 Hammerschmidt then contacted the Douglas County Conservation District to inquire about terracing, a practice he had observed on his family farm in the 1950s. He learned the organization would split the cost of terracing his land, and then his mission to eradicate erosion was under way.
In 1998, an existing waterway, which is about a half-mile long, was reshaped, and terraces were added to aid in the control of water movement. Today, the waterway directs 80 percent of the runoff into the improved waterway.
Hammerschmidt said he didn't mind the extra cost of maintaining the terraces and improving the waterway because the current state of the land has proven not only more valuable but also more healthy.
"This is good soil for crops. I'm well-satisfied with the production we get out of it," he said.
With a life of farming connections, Hammerschmidt said he felt obligated to take proper care of the land.
"You just kind of overlook the cost and do it," he said. "It's just the right thing to do."
In 2006, an additional 1.2 acres of the Hammerschmidts' land was devoted to wildflowers and grass to serve as a buffer strip near the cropland.
Copyright 2018 The Lawrence Journal-World. All rights reserved. This material may not be published, broadcast, rewritten or redistributed. We strive to uphold our values for every story published.