Kansas National Guard troops fanned out across snowbound western Kansas with generators, fuel and supplies Sunday after a winter storm left more than 44,000 homes and businesses without power and closed stretches of more than a dozen highways.
The state's first weather-related death was reported Sunday from sparsely populated Wallace County, on the Colorado border, where snowfall of up to 32 inches created 13-foot drifts. The sheriff's department said a 48-year-old man was found dead in a rural home where a generator apparently had been in use, although an official cause of death was pending.
A 250-mile section of Interstate 70 from Salina to the Colorado border reopened Sunday evening in both directions, but efforts to open other roads were hampered by blowing snow scattered by north winds of up to 25 mph.
Two stranded vehicles were spotted Sunday by the Kansas Highway Patrol's airplane crew in Greeley County, also on the Colorado border, and their occupants were rescued by sheriff's deputies. Another search flight was scheduled today in northwest Kansas, and the patrol said troopers driving I-70 also were on alert for stranded vehicles.
National Guard troops transported generators Sunday night to Gove and Logan counties to help restore water and power. The guard also helped get generators to emergency shelters set up in several western and central Kansas counties, including Thomas, Hamilton, Sheridan and Ellis.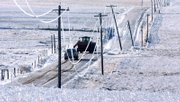 The counties are among 17 reporting partial or total loss of power, said Kansas Emergency Management spokeswoman Sharon Watson.
Ron Kaufman, spokesman for the Kansas Department of Transportation, said crews were working Sunday night to clear closed sections of Kansas highways 25, 27, 96, 117 and 161 and portions of U.S. highways 24, 40, 50, 56, and 160.
Utility crews were working around the clock to restore power, but it could be a week or more before the job is completed.
Aquila Inc. reported that more than 20,000 of the utility's 70,000 electric customers in Kansas were without power Sunday afternoon. The outages included more than 11,000 customers in Dodge City. Also hard-hit were the communities of Liberal, Sublette, Satanta, Ness City and Plainville.
"The weather is bad, and winds are galloping at 30 to 40 miles per hour," spokesman Al Butkus said. "We've gotten 3 inches of ice on wires and connectors, and that ice stays there until it gets above freezing. And the temperatures aren't moving above freezing, so that ice is remaining and the winds are just blowing."
Sunflower Electric Power Corp. spokesman Steve Miller said a combination of ice and strong winds had downed as many as 5,000 poles and numerous high-voltage transmission lines.
Copyright 2018 The Associated Press. All rights reserved. This material may not be published, broadcast, rewritten or redistributed. We strive to uphold our values for every story published.