Leoti — Huddling against the frigid prairie wind, Lane County farmer Vance Ehmke climbed into the cab of a four-wheel-drive tractor at the farm equipment dealership here as he mulled over still another purchase.
Already this winter, Ehmke has purchased a brand-new John Deere 8330 tractor, traded for a newer but used grain drill and added more grain storage bins at his farm. He can hardly wait for his new tractor to arrive in time for spring planting.
"I've got five or six tractors like yours coming in," salesman Robbie Berning told him, adding the dealership still had lots of deals in the works and lots of quotes to finalize.
Ehmke is not alone in his optimism.
Farmers who have nursed along aging farm equipment through tough years of drought are now jostling to replace it in time for spring planting. This winter's generous moisture across the Great Plains - coupled with high grain prices driven by ethanol demand - have fueled an economic boom out here in farm country.
"We haven't seen commodity prices like this for years," said Mike Woolverton, an agriculture economist at Kansas State University. "This is a golden opportunity for agriculture. Someday we will look back and think these are the golden years."
Spending money
Much of the winter wheat across Kansas is still encased under a solid sheet of ice and snow - tempering some optimism amid fears that the crop could suffocate. But even the possibility of having to replant those wheat fields with another crop come spring did little to dampen the sheer joy brought on by some of the best grain prices in a decade.
"Wheat could be out there suffocating and dying, and we are in here spending money like drunk sailors," Ehmke said as he sipped hot coffee at the Leoti Greentech farm dealership.
Last fall, wheat prices went higher than $5 a bushel before falling below $4 now in anticipation of a massive 2007 wheat harvest, given the planted acres and moisture. Wheat is now caught up in a struggle for acreage with corn - and it appears that corn is winning, Woolverton said.
Some wheat growers say if wheat prices continue to fall, they might just graze or bale their winter wheat for hay rather than harvest it as grain, he said. They could then seed the land come spring to corn, sorghum or soybeans because the return on those crops is so much better.
Farmers gross between $200 and $300 per acre of wheat they grow. With corn, farmers can gross as much as $800 per acre at today's prices, Ehmke said.
"This promises to be huge in terms of prosperity on the farm," he said.
The rise of the nation's ethanol industry has fundamentally changed market demand for commodities like corn that are used to make it.
"This is as significant as the invention of the plow, in terms of what it means to agriculture," Ehmke said.
All signs now point to farmers planting huge corn acreages this spring - even though corn needs more fertilizer and water to grow than most other row crops. Corn seed is scarce, especially for the preferred corn hybrids. Prices for nitrogen fertilizer have not fallen much due to the strong demand from early fertilizer sales, Woolverton said.
"Producers are anticipating a good return on crop sales, plus they are looking at larger harvests of wheat and corn - and they need to update equipment to handle all of it," he said.
Another boom?
Scott Robertson, a farmer from nearby Tribune, stopped in at the Leoti farm dealership to check on when the new corn planter he had ordered would arrive. Robertson said he was trying to upgrade some equipment so he could compete.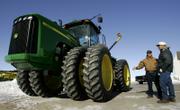 "Farming has not been a lot of fun the last 10 years," he said. "We are hoping to see the fun come back into it."
Still, he is cautious about the ethanol-driven farming boom.
"We are not betting our farm the ethanol thing will come into fruition because there are too many variables out there," Robertson added.
Farmers here remember too well the farm boom of the mid-1970s when wheat prices soared from $1.70 to $5 a bushel. It was hard to get equipment then, and those lucky to find any were looking at a six-month wait for it, Ehmke said.
Tractors back then sold for $3,000 to $8,000 over the suggested manufacturer's retail price, Berning said.
"The implement dealers aren't going to be discounting anything this year," Woolverton said. "They know producers have money to spend and they are looking for equipment."
Hopes for end of drought
All this comes amid hopes that the long drought may be broken.
In October, as the growing season was coming to an end, 80 percent of Kansas was in a drought designation, ranging from abnormally dry to extreme drought, said state climatologist Mary Knapp.
On Feb. 6, only 45 percent of the state had some drought designation, and just 1 percent is still considered in severe drought, she said.
The Climate Prediction Center's outlook for the spring is mostly favorable for Kansas.
"We have struggled for 10 years to raise anything," Robertson said. "The potential is there - if we can make it through the remainder of winter."
Copyright 2018 The Associated Press. All rights reserved. This material may not be published, broadcast, rewritten or redistributed. We strive to uphold our values for every story published.