Kansas City, Mo. — Multiple explosions at a chemical distribution facility shook an industrial area of Kansas City on Wednesday, sending an ominous smoke cloud above the downtown skyline and prompting the evacuation of nearby schools, homes and businesses.
"If you've seen 'The Day After' or any of those movies that show those Hollywood nuclear explosions, that was my first thought," said Lawrence resident Roby Loftin, 26, who saw the aftermath as he was driving a semi-trailer full of soybeans to a Kansas City. "It looked like something had been bombed."
There were no immediate reports of injuries, but police were busy driving up and down nearby streets warning that more explosions were possible at the Chemcentral facility, which stores and distributes various chemicals and solvents.
Fire officials also told residents throughout the city to avoid picking up debris carried by the dark cloud that streamed over downtown, although Fire Chief Richard Dyer said the material was not highly toxic. The cloud appeared to be dropping a sticky substance as it moved to the southwest.
"It went for miles up, and the wind was blowing that blue cloud toward Westport and the West Bottoms," said Loftin, a truck driver for Lawrence-based Pine Family Farms. "It was very eerie."
Dyer said it was unlikely that anything falling was dangerous, but officials urged caution anyway. Air quality was being monitored within a two-mile radius.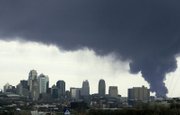 The fire began about 2:20 p.m. after several 55-gallon drums containing chemicals exploded, touching off more explosions and fires, Kansas City Fire Marshal Floyd Peoples said.
More than four hours later, flames continued to shoot from one large chemical tank. Fire officials worried the intense heat would cause an explosion of three 30,000-gallon rail tank cars filled with mineral spirits that were parked on a nearby siding.
Steam venting from one of the cars indicated that its pressure relief valve had activated, Fire Battalion Chief Joe Vitale said. The steam had dissipated somewhat by 7 p.m., suggesting the heat had let up, he said.
Firefighters were kept one mile from the site, concentrating instead on protecting nearby buildings.
Ken Hannon, a spokesman for the Missouri Department of Natural Resources, said a number of chemicals are at the property, including mineral spirits, turpentine and other solvents.
"I'm looking through the list. I'm not seeing anything that's jumping out at me" as particularly hazardous, he said. "Flammability seems to be the main concern right now for most of these chemicals."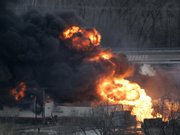 The explosions northeast of downtown sent up smoke that could be seen for at least 30 miles around the city.
Dyer said firefighters had abandoned attempts to fight the blaze and would just let it die out, hopefully by this morning, although it could burn for a few days.
Plant superintendent Craig Nienhueser said workers heard a hissing noise inside the building. He went around to the back and noticed some flames, at which point the workers were evacuated. "We are just thankful everybody is OK," he said.
The plant employs about 20 people.
Copyright 2018 The Lawrence Journal-World. All rights reserved. This material may not be published, broadcast, rewritten or redistributed. We strive to uphold our values for every story published.