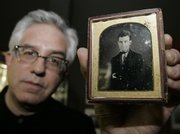 Cincinnati — An unidentified buyer paid $97,750 for a rare daguerreotype of abolitionist John Brown on Friday, auctioneer Wes Cowan said.
The buyer, one of four bidding by telephone, declined to be identified or to talk about the purchase.
Cowan said only that the buyer was a major institution.
"It was a great price," said Cowan, who had estimated the photo would fetch $60,000 to $80,000. "We are pleased with the price and more pleased for the family, which is selling it to pay for some medical expenses."
Experts say probably no more than a half dozen original daguerreotypes exist of the man best known for his ill-fated raid on a federal arsenal in Harpers Ferry, Va.
Brown was born in 1800 in Connecticut, lived in Ohio for a time and was a free-state activist in Kansas before the October 1859 raid that he hoped would inspire an anti-slavery rebellion.
The daguerreotypes sold Friday had passed down through five generations of Brown's family.
The last daguerreotype of Brown that sold at auction went for $115,000 in 1997, Cowan said. It is displayed at the Smithsonian Institution's National Portrait Gallery.
"I told the family the market had changed since the last one sold," Cowan said. "Many collectors who drove up the price then are no longer active, and the National Portrait Gallery doesn't need another one.
"The other one was a much more dramatic pose. It's almost like comparing apples with oranges. But, still, it's a great image, and a great price for it."
The portrait shows Brown his arms crossed in front of him. The portrait in the National Portrait Gallery shows Brown holding a flag in one hand and raising the other, as if taking an oath.
He was wounded and captured, and was tried and hanged by the state of Virginia for treason two months later.
Although revered by some for his anti-slavery militancy, Abraham Lincoln called him a "misguided fanatic."
Copyright 2018 The Associated Press. All rights reserved. This material may not be published, broadcast, rewritten or redistributed. We strive to uphold our values for every story published.