-->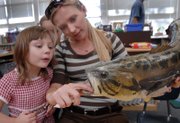 Douglas County trails most Kansas counties in educational programs offered for young children, according to the newly released 2007 Kansas Kids Count figures.
Specifically, the numbers show the county isn't keeping pace with other counties' all-day kindergarten, Head Start and pre-Head Start programs, according to Rich Minder, a local child advocate and a member of Lawrence's school board.
"The fact that we're lagging behind other urban counties in the state ought to be a wake-up call to our community in where we need to spend our money," Minder said.
The report, produced annually by Kansas Action for Children, a Topeka-based advocacy group on children's issues, was released early today.
The Douglas County numbers were released by Minder, who is collaborative projects coordinator for Success by Six Coalition of Douglas County, a group of agencies and individuals working to improve early childhood education programs.
Minder said Douglas County falls short in all-day kindergarten, compared with the rest of the state and its peer urban counties: Johnson, Shawnee, Wyandotte and Sedgwick, which have more than 150 residents per square mile.
The figures show 4.35 percent of the elementary schools in Douglas County - only in Eudora - offer all-day kindergarten, compared with 53.09 percent of peer counties and 59.66 percent of all Kansas counties, Minder said.
"It tells me that other similar counties around the state in terms of population size and urban density are figuring out - 53.09 percent of them - how to get all-day kindergarten," Minder said. "That's one thing that really stands out."
Lawrence's school district has considered going from half-day to all-day kindergarten. But district officials have said costs are expected to be close to $1 million.
Gov. Kathleen Sebelius has proposed spending $15 million to start a five-year phase-in of all-day kindergarten statewide. So far, lawmakers have declined to endorse the recommendation. They will come back Wednesday for a wrap-up session and may consider it then.
Minder also said the Kids Count figures show Douglas County is behind in providing Head Start services. Head Start provides early childhood education for children ages 3 and 4 from families that are below the federal poverty guidelines.
Kids Count figures show Douglas County has 26.7 slots per 100 children who qualify, Minder said. In peer counties, the number is 39.5 slots. And the statewide figures show there are 62.7 Head Start slots per 100 children below the federal poverty guidelines.
"The fact that we are below our peer counties and the state is pretty disappointing," Minder said.
Early Head Start services, which are for children ages 0 to 3, are even worse in Douglas County, Minder said. There are zero slots in the county - compared with 4.0 slots in peer counties and 6.0 slots in the state - per 100 children below the federal poverty level.
However, that may change soon. The Legislature is considering providing funding to Douglas County for Early Head Start programs, Minder said.
Carolyn Kelly, executive director of the Community Children's Center, which is the Head Start Program in Lawrence, said if funding is approved, the state could provide as many as 20 slots total for the county next year.
Copyright 2018 The Lawrence Journal-World. All rights reserved. This material may not be published, broadcast, rewritten or redistributed. We strive to uphold our values for every story published.