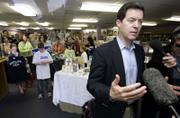 Des Moines, Iowa — Sen. Sam Brownback, R-Kan., said Monday that his proposal to offer a flat tax isn't designed to replace the current tax system, but would be an option taxpayers could choose.
"I'm not taking on the current tax code from the standpoint of removing it," Brownback said. "I'm saying create an alternative and let people pick."
Brownback, who is seeking the Republican presidential nomination, used the upcoming tax deadline to focus on his plan to reshape the nation's income tax system. The deadline for filing federal income taxes is today.
Brownback, who spoke with reporters after meeting with customers at a bookstore in Des Moines, said his flat tax plan would not, at least initially, reduce federal revenue.
"Not as part of a systems change I am proposing," he said. "We would design a system that would yield comparable revenues."
Brownback said many details of his plan haven't been set but would be decided before the primary season begins.
One possibility is to require taxpayers to pick an option and stick with it for a period of time, likely five years, he said.
Businessman Steve Forbes sought the Republican presidential nomination twice, with the centerpiece of his campaign being a flat tax that would have cut deeply into revenues. He failed to get the nomination both times.
Brownback said he was pushing a more modest package as an option to the current system, which he called "unintelligible."
"You can call 50 different auditors with the same question and get 50 different answers," he said.
Copyright 2018 The Associated Press. All rights reserved. This material may not be published, broadcast, rewritten or redistributed. We strive to uphold our values for every story published.