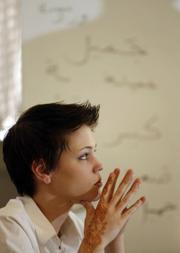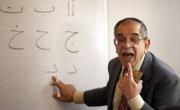 Wichita — Teaching Arabic is how Yassin Shourbaji builds bridges between communities.
Shourbaji, a retired engineer and member of the Islamic Society of Wichita and the Islamic Association of Mid-Kansas, has been teaching Arabic to English-speakers for four years.
He expanded his course offerings in March to include an introductory course for high school and college students.
His passion has resulted in a group of diverse people meeting at a west-side mosque to learn the intricacies of a language that looks and sounds nothing like English.
And, in turn, the students are gaining first-hand insight into a culture that is often portrayed as everything but American.
"Language contributes to cultural enhancement and, hence, it will build better mutual understanding in our diverse, multiethnic society," said Shourbaji, whose wife, Judy, is also learning Arabic.
One more slot has to be filled to reach the class's 12-student capacity.
Cherry McCord, who is Muslim, said she's taking the class to build her knowledge base for her 3-year-old son.
"I want to raise him as a Muslim," she said.
Kate Witsman, a Wichita State University senior, said learning Arabic will help her as she pursues a career in political psychology.
"Arabic is integral to the field," said Witsman, based on the religion's growth.
There are roughly 5,000 Muslims in Wichita, according to Hussam Madi, spokesman for the Islamic Society of Wichita.
"It's a tremendous learning opportunity," Witsman said.
While Shourbaji said it's essential for people to master English, doing so does not keep people from learning and exploring other languages.
He uses all types of teaching tools - even American fairy tales written and illustrated in Arabic - to teach the curriculum he largely developed himself.
Jens Kreinath, who teaches the new "Anthropology of Islam" class at Wichita State, said he's also learning how to read, write and translate Arabic, which will further enhance his own teaching skills.
Kreinath said he has encouraged several of his students to attend Shourbaji's course because "this goes beyond what I know."
Josh Moore, one of Kreinath's students, followed his teacher's advice.
Moore, a junior at Wichita State, said the language course will prepare him for transferring this fall to the American University in Cairo, Egypt, where he plans to study international relations or diplomacy.
"I want to bring a true understanding of what the Middle East is to America, and the class is going to go a long way in helping me understand more about the culture," Moore said.
His girlfriend, Jasmine Pfingsten, is also taking the course and planning to transfer to the university in Cairo from Cowley College.
After two courses, Pfingsten said she was amazed that she's able to read and write the Arabic alphabet.
"A lot of times we fail when it comes to communication," Pfingsten said of exchanges between Muslims and non-Muslims.
"It's very difficult for two cultures that are so different in religion and politics and tradition to communicate well with each other."
But, she said, learning the language is one remedy that goes beyond the spoken word.
"When people from different cultures take an interest in them and want to learn about them," she said, "it makes them feel more comfortable."
Copyright 2018 The Lawrence Journal-World. All rights reserved. This material may not be published, broadcast, rewritten or redistributed. We strive to uphold our values for every story published.