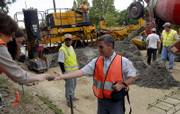 The rebuilding of a major portion of Kasold Drive is going so smoothly that city leaders said they now believe the project may be finished ahead of schedule.
Construction crews this week began laying concrete for the eastern lanes of the road, which is being rebuilt from 22nd Street to Bob Billings Parkway.
"They are really making some good progress," said Chuck Soules, the city's director of Public Works. "I think they are going to beat the (deadline) by a lot."
But the project has a deadline of early October 2007, which means it still will be nearly a year before the road is fully open.
Currently, traffic is limited to one lane in each direction on the four-lane road. But motorists should be encouraged by what they're seeing this week, Soules said.
Cement trucks and specialized paving machines are laying 10 inches of concrete reinforced with granite aggregate to make it less susceptible to deterioration.
Soules said city inspectors were carefully inspecting each load of concrete to ensure it meets new city specifications. City commissioners agreed to reconstruct the street with concrete rather than asphalt to improve its life expectancy.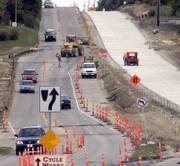 Soules said he anticipates traffic will be moved over to the new eastern lanes in November. At that time, work will begin on rebuilding the western lanes of the street, which will include the construction of a large retaining wall.
Soules was offering tours to city commissioners who wanted to check the progress of the $5.4 million project. Commissioners said they were impressed.
"It is a road that is being built to be there for a long time," said City Commissioner Sue Hack. "That's the best part."
The work began in May on what is one of the more expensive road projects the city has ever undertaken. It is the first time the city has completely rebuilt that heavily traveled section of street since the 1970s.
When finished, the road will continue to have two driving lanes in each direction, a new sidewalk on the west side of the road and a new median that will be more heavily landscaped than the current grass median.
Copyright 2018 The Lawrence Journal-World. All rights reserved. This material may not be published, broadcast, rewritten or redistributed. We strive to uphold our values for every story published.