Wichita — U.S. Transportation Secretary Mary Peters visited Cessna Aircraft Co. in Wichita on Monday as the general aviation industry lobbied for her support in its fight against user fees to help fund the Federal Aviation Administration.
Peters, flanked by Sen. Pat Roberts, R-Kan., and Rep. Todd Tiahrt, R-Kan., toured the production line for Cessna's Citation airplane. Peter met privately earlier in the day with industry leaders.
At issue is a proposal that would have private aircraft owners contributing more money to the Federal Aviation Administration, including the air traffic control system.
The user fee system would replace the current system in which general aviation pays a fuel tax and the airlines pay a fuel tax, a departure tax and a ticket price tax. The current funding method expires next year.
Commercial airlines say the system needs to be modernized and want general aviation to pay more.
They contend they pay 94 percent of the cost of the air traffic control system, while their operations make up only 69 percent its use. The Air Transport Association, a lobbying group representing the airlines, said it takes as much time for an air traffic controller to maneuver an airline as it does a business jet.
"General aviation groups have come out against the user fees, contending that the air traffic control system was built for the airlines' use. They contend the general aviation industry has contributed through easily collected fuel taxes that do not require creation of a new bureaucracy.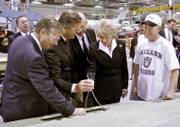 While the airlines support user fees for the commercial aircraft industry, they say the general aviation industry can continue to pay through fuel taxes, as long as it pays its fair share.
Roberts told The Associated Press during Peters' tour of the Cessna plant that the user fee isn't needed to answer the problems of funding aviation. He also said the new transportation secretary has been "very receptive" to the general aviation's needs.
"She has indicated she sees no reason to set up an entirely new bureaucratic system with user fees," Roberts said.
In brief remarks to reporters following the tour, Peters said she wanted to keep her options open but heard "loud and clear" Monday that it might have a negative impact on the general aviation industry. She said her trip to Wichita was a fact-finding expedition.
Asked if that meant she was leaning against user fees, Roberts pulled Peters toward him, telling reporters: "She's leaning over here."
"I am," Peters said.
Cessna Chief Executive Officer Jack Pelton said the industry is concerned that the user fee system would put an undue burden on small aircraft operators.
Pelton and others pointed to the impact to businesses in remote areas like western Kansas, where there is no infrastructure to collect such aviation fees.
"It is a very large concern, and we think the only impact it could have is negative," Pelton said.
Copyright 2018 The Associated Press. All rights reserved. This material may not be published, broadcast, rewritten or redistributed. We strive to uphold our values for every story published.