MAYETTA — A political firestorm raged Tuesday over a television ad by Republican Atty. Gen. Phill Kline that focuses on a 15-year-old unproven sexual harassment allegation against Democratic challenger Paul Morrison.
During a debate, Morrison, the Johnson County district attorney for the past 18 years, said the allegation was baseless and that Kline's use of it showed that Kline will do anything to win.
"What we are seeing here today is bottom-feeder politics," Morrison said. "This is the worst kind of politics, use of half-truths, use of innuendo by a desperate politician who will literally say or do anything to cling to that office."
But Kline defended the ad and said Morrison was trying to hide details of the issue.
"He needs to answer the question: What happened that night?" Kline said.
Meanwhile, a moderate Republican group called on Kline to pull the ad from the air.
"The ad is underhanded, untruthful, deeply personal and downright shameful. Kansans deserve better," said Andy Wollen, chairman of the Kansas Traditional Republican Majority.
Wollen said he still supported Kline, a conservative Republican, for re-election, but added "these types of personal attacks must stop."
Kline stood by the ad.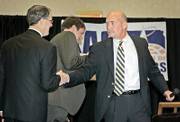 "Everything in that ad is true. It is taken right from federal court documents," he said.
The debate at Harrah's Prairie Band Casino Hotel and Convention Center was typical of previous, no-holds-barred meetings between Kline and Morrison.
Right off the bat, debate moderator Bob Beatty, a Washburn University professor, asked the candidates to address Kline's controversial ad that started running last weekend.
The sexual harassment allegation was brought by a woman Morrison fired in 1991.
The woman said that Morrison had made a pass at her during a party.
Morrison said in a sworn statement that he had told her she was attractive, and then apologized the next day for "any misrepresentations she may have made."
Morrison said the employee was later fired because of poor job performance. The woman sued, but her charges were dismissed in two lawsuits.
Kline insisted that one of the lawsuits ended in a settlement.
But Morrison said he and the woman agreed to dismiss one lawsuit after he agreed not to countersue the woman for making false accusations.
"We never paid a dime to settle any lawsuit because we weren't guilty of anything," Morrison said.
Kline said the allegations against Morrison were troubling.
"I have fired people in my office for that kind of conduct," he said.
He later declined to say who he fired or provide any details. Asked if he would fire someone for an unproven allegation, Kline said he wouldn't speak "hypothetically."
Wollen, with Kansas Traditional Republican Majority, said the candidates should focus on the issues.
"If the candidates for attorney general cannot run their campaigns with integrity, then how can we expect them to govern with integrity?" he asked.
During the hourlong debate, Kline and Morrison criticized each other's ethics and competence.
At one point, an audience member at the Kansas Association of Broadcasters' convention was applauded for asking the candidates to talk about their qualifications instead of the inadequacies of their opponent.
Morrison said his work as a prosecutor gave him the best legal experience to handle the job. He said Kline has been too focused on politics.
Kline said he has toughened prison sentences and won key legal decisions during his four-year term.
Copyright 2018 The Lawrence Journal-World. All rights reserved. This material may not be published, broadcast, rewritten or redistributed. We strive to uphold our values for every story published.