Chat about the 2006 campaign with Attorney General Phill Kline
October 9, 2006
This chat has already taken place. Read the transcript below.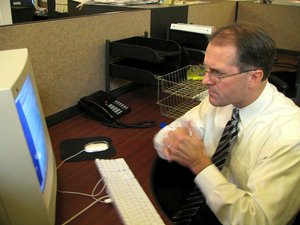 <a href="http://www2.ljworld.com/elections/2006/nov/07/candidates/kline/">Phill Kline</a>, a Republican, was first elected as the state's attorney general in 2006. He faces Democrat <a href="http://www2.ljworld.com/elections/2006/nov/07/candidates/morrison/">Paul Morrison</a> in this year's election. He takes your questions at 2 p.m. Oct. 9.
<a href="http://www2.ljworld.com/news/politics/elections/2006/kansas/ag/">See more about the Attorney General race »</a>
<em><strong>Editor's note, October 11, 2006:</strong> During the chat below, Atty. Gen. Phill Kline claimed to quote Mike Merriam, attorney for the Kansas Press Assn., in support of actions he took during his first term in office. <a href="http://www2.ljworld.com/news/2006/oct/11/kpa_attorney_disputes_kline_claim/?elections_2006">Merriam has disputed the accuracy of the quote, and Kline's campaign has offered an apology.</a></em>
Moderator:
Hi folks! I'm Joel Mathis, managing editor for convergence. Today we have Attorney General Phill Kline with us, to take your questions about his campaign for re-election. He's here with us, and we'll get rolling.
Attorney General Phill Kline:
Hello, it is my pleasure to be with you today.
What differences, if any, are there between the type(s) of legal work done by an Attorney General and a District Attorney for a major county?
Attorney General Phill Kline:
First, we have some similarities. My office has prosecuted over 60 homicide cases since I have been Attorney General and we have oversite of the appeals of Kansas criminal cases. Furthermore, the office is generally involved in more serious criminal prosecutions. Much of the office, however, deals with civil litigation - the water cases against Nebraska and Colorado; defending the state in various lawsuits; representing state agencies; the Health Midwest case against Missouri - these efforts consume a tremendous amount of time.
What is your response to the Sedgwick County D.A.'s statement that you and your office's investigation into abortion records had nothing to do with the prosecution of sex offender Robert Estrada? Do you think you have a civic duty to issue a correction for your misrepresentations and cease using the false example in your stump speeches and debates?
Attorney General Phill Kline:
The District Attorney was responding to a reporter's question about "prosecution of the case." We do not prosecute unless invited in by the local agency and that generally does not happen in our state's 6 largest counties. The DA did confirm that my office referred evidence involving a child rape to her office in October of 2005. Subsequently, in November of 2005 a man was charged with child rape. He was sentenced this week. The evidence indicates he raped his step-children over a period of years resulting in four pregnancies and more than one abortion. It took far too long to bring this person to justice.
Attorney General Phill Kline:
Additionally, the case illustrates why we need these reports. For years the step-father would claim that the girls were impregnanted by a boyfriend when this was false.
Have you actually seen the subpoenaed medical files in Alpha/Beta?
Attorney General Phill Kline:
The District Court has closed this part of the investigation. I can affirmatively state that my office has referred evidence involving child rape to local prosecutors based on abortion records.
Why do you continue your crusade against the abortion clinics, when there are more pressing issues such as identity theft, price gouging at the gas pumps, and preserving our right to privacy?
Attorney General Phill Kline:
First of all, it is the media that focuses on this issue not I. I have devoted my time to successfully arguing before the United States Surpeme Court, passing Jessica's law, establishing the Vulnerable Adults Task Force, breaking open the Kaufman case, establishing the Abuse and Neglect Unit to protect our elderly, initiating the lawsuit regarding the towing company here in Lawrence, etc.
Attorney General Phill Kline:
But I must mention that my office has been involved in over 700 cases of adults sexually exploiting children since I have been Attorney General. Our Cyber Crimes Task Force has placed over 90 Internet predators of children behind bars and we have pursued several cases of child rape.
In every case of child rape you use the corroborating physical evidence reflected in the medical file to support the child's testimony. Child witnesses are often terrified to confront their abusers and you need these medical records. Paul knows this and has admitted that he has sought medical records in his cases.
As it relates to my investigation of criminal late-term and partial birth abortion - we never sought the identity of the adult women and you cannot prove the case without reviewing the doctor's notation regarding the procedure used.
A District Court Judge found probable cause to believe that crimes have occurred and that evidence of the crimes are in the records. The Judge issued a subpoenaed the records. It is my job to enforce the law and I will.
The Attorney General's Office is charged with enforcing the laws of the land. Currently, the United States Supreme Court provides women the opportunity to choose abortion, without restraint, during the first tri-mester. Will your office vigorously enforce a woman's right to choose AND defend her right to acquire medical treatment to end pregnancies?
Attorney General Phill Kline:
Yes. That is my job.
General Kline: My question is straight-forward. I am a Jewish woman in an office with 50 people, three of whom know I'm a Jew. It's simply not relevant. Why do you believe your Christian values have anything to do with your job as Attorney General?
Attorney General Phill Kline:
Our values animate us and are important to each of us. I believe, and I don't mean to assume to much, that your concern is whether I believe government should impose a specific religious belief. I do not believe it should do so. I strongly support the religious freedoms we have in this nation and have great respect for your faith. I also cherish the freedom I have to share my faith to those who desire to know more about it.
Justify your position that it is desirable for the law to treat consensual sex between minor partners of the same gender more harshly than consensual sex between minors of different genders.
Attorney General Phill Kline:
I do not support that position and voted against the law you are referring to. This law was a part of SB 149 that passed the legislature in 1999. I voted against the bill. My opponent in this election stated he would have voted for the bill.
When I became Attorney General I inherited a lawsuit challenging the law. Mr. Limon was convicted for his 3rd offense of molesting a child. He was sentenced under the more harsh provision in SB 149 because his actions were homosexual rather than heterosexual. This occurred prior to my becoming Attorney General. General Stovall defended the law as it is the role of Attorney General to do. The case went to the United States Supreme Court and then was remanded for further consideration. That's when I came in office and I also defended the law although I disagreed with the policy. I do believe it was the legislature's perogative and Governor Graves, who signed the law, right to have such a law.
SB 323 did not cut any prison sentences. No one got out early. It cut post-release supervison. Lots of examples have been given about how ex-cons have committed crimes following their release but no one has showed that these convicts would not have reoffended if still being supervised. It hasn't been done because it can't be done. There is no causal relationship. Ex-cons reoffend on parole and off parole. Maybe you disagree. Please explain how being on supervised parole keeps ex-cons from reoffending and cite an example of where that has happened.
Attorney General Phill Kline:
False. Read the Capital Journal article this morning. Also, go to www.paulspolicy.com and you can read the original Kansas Department of Corrections source documents that show the impact of SB 323 which Paul Morrison helped write and which I opposed.
The KDOC January 2001 newsletter points out that the bill released early from prison 887 inmates in the first 6 months and that over 50% of those inmates were medium and maximum security inmates.
Furthermore, the bill reduced probation and post-release supervision up to 75% on crimes such as: intentional torture of a child, failure to register as a sex offender, aggravated sexual battery, arson, shooting at a home when no one was hurt, etc.
Since its inception over 1,500 of those inmates with shortened sentences have gone out on our streets, found new victims and committed new crimes and have been caught, tried and convicted and are back in prison. Claims it did not reduce sentences are flat out false.
Phill---what is the single biggest challenge you see Kansas facing over the next 4 years? Also, what you have done to protect Kansans from possible terrorist attacks?
Attorney General Phill Kline:
We must expand our prison bed space and stop using our sentencing guidelines as a budget tool rather than tool for justice. This is the primary difference between my opponent and I. I have consistently sought to expand prison capacity while he has consistently sought to release people early and shorten sentences.
I have the honor of overseeing the KBI and we word directly with the Department of Homeland Security and the Department of Justice regarding those in our nation who may pose a threat to homeland security.
Exactly how many cases did you try in court, meaning you were the lead attorney in the courtroom giving oral arguments, prior to becoming attorney general? If you must estimate, use small incremental steps such as 0-5, 5-10, 10-15, etc.
Thank you,
kugrad
Attorney General Phill Kline:
My practice primarily consisted of construction mediation and arbitration. Early in my career my caseload was more substantial in number and less substantial in size of the case. I would average about 20 cases at a time. In my specialty of practice, however, I would be primarily responsible for 1 or 2 cases the cases were so mammoth in size. For example, my representation of the State of California consumed more than one year. My representation of Emerson Electric in a terrible accident in Hutchinson involving a salt plant consumed an enormous amount of time. Conversely, I represented the prison doctor at Lansing from inmate lawsuits and I would work 10-15 cases at a time. My experience in the law has been much more broad than Pauls who has had one type of case in one district court and has never entered private practice.
Your Director of Consumer Protection has been arrested 12 times. You hired your nephew who had a suspended driver's license for refusing to take a breathalyzer test and was on probation for drug charges. If re-elected will you agree to stop hiring people with criminal records to work in the Attorney General's office?
Attorney General Phill Kline:
Bryan Brown was engaged in peaceful civil disobedience and all charges were misdemeanors. This does not disqualify you from the practice of law and he is a lawyer in good standing doing a great job as the consumer chief.
My nephew made a few mistakes in his youth. He does not deserve a million dollar campaign on his head. He did a good job in constituent service and now has started his own business. Its time to deal with the real issues Kansans are concerned with not this continued mischaracterization and character assasination of those who are not even involved in running for office.
General Kline,
Can you tell us about your program Operation PADLOC? Thanks.
Moderator:
We're going to pose two more questions to the A.G.
Attorney General Phill Kline:
I initiated an effort to apprehend those who refused to follow the rules on probation or post-release supervision. These are the folks who committed crimes, and afterwards still flaunted the rules. They are most likely to reoffend. We initiating a Task Force and apprehended over 100 absconders or fugitives from justice who had committed some violent crimes. We are in the process of renewing this effort through PADLOC III. We already apprehended one person wanted for child rape who was identified through my investigation involving medical records - the same one that Mr. Morrison says he would end and of which he has been highly critical. We will continue this effort.
How can you say you're for "Open Government" and less secrecy, when you met with the six member "Born Again" majority of the Kansas Board of Education on 2/8/05, in two groups, a moment apart, in an attempt to evade the requirements of the Kansas Open Meetings Act? One member of that Board admitted the day previous that it was your intent to do so. AG Stovall had issued opinions that such "serial meetings" violated the Act. You've admitted that the meeting was requested by you to encourage the Board majority to require placement of stickers in textbooks that would have challenged the theory of evolution, though a Federal court in Georgia ruled this illegal only a month earlier.
Attorney General Phill Kline:
The attorney for the Kansas Press Association stated of these meetings: "it is remarkable the length the Attorney General will go to to comply with the law."
I believe that says it all. There was no violation and I am not even subject to the law in this instance.
I can say I support open government based on my record of supporting open government. I helped write the law that opened the books for Schools for Fair Funding. I weighed in on the dispute about whether the books were open relating to the new KU Athlethic Director and it made the difference. I am the only Attorney General in Kansas history to voluntarily release all outside counsel fees (which are significantly less than my predecessor).
General Kline,
What are your top accomplishments as Kansas Attorney General?
What do you hope to accomplish in your next term?
Thanks,
Mike
Lawrence
Attorney General Phill Kline:
1. Kansas laws were among the weakest in the nation regarding predatory activity against children four years ago. Now they are among the toughest. We passed Jessica's law; increased the statute of limitations, closed the loophole regarding child pornography, increased the penalties for soliciting children for sex and promoting child prostitution.
2. I helped establish the Cyber Crimes Task Force and we have put over 90 Internet predators of children in prison.
3. Meth labs are down 70% with the passage of Matt Samuel's law and aggressive investigaiton, prosecution and education.
4. I established the Vulnerable Adults Task Force to prevent scams against the developmentally disabled and seniors and was the first AG in the nation to sue for price gouging regarding flu vaccine.
5. I argued and won before the United States Supreme Court.
6. We've won key water victories against Nebraska and Colorado.
7. I won the Health Midwest case against Missouri and we now have a $100 million plus foundation to help the poor get health care.
8. We became the first state in the nation to take trainers into our schools and communities in the Netsmartz program to keep our children safe on the Internet.
9. I took the Salons of Hope program statewide to help with the reporting of domestic violence by enlisting the care and compassion of our state's cosmetologists.
These are a few of the accomplishments.
In the second term I will continue to work for expanded prison capacity; increase penalties; build on our success regarding violence against dependent seniors and work to make protection from abuse orders more effective.
Moderator:
We're thankful that Atty. Gen. Phill Kline joined us today -- and thanks to all of you who posed questions; we're sorry that we couldn't get to them all. We're still trying to get Paul Morrison, Mr. Kline's opponent, in for a chat. In the meantime, join us Wednesday when we have two Democrats running for Congress: U.S. Rep. Dennis Moore and Nancy Boyda. Thanks again, Mr. Kline!
Attorney General Phill Kline:
Thank you Mr. Mathis it was my pleasure to join you today.