Tonganoxie — Mo's Pizza is beginning to fill with the after-church lunch crowd and Kelly Frantz couldn't be more uncomfortable.
"I don't do this very often," she whispered, ignoring both the cheese slice growing cold in front of her and the people staring in her direction.
"Most of the time I'm outside of Tonganoxie because I want to blend in. And I don't feel like I can do that here."
Frantz, 24, drew attention not because she is a local actress or even a fashion model, although with her wide white smile and flaxen hair she surely could be. Frantz's unwanted celebrity is as unglamorous as it is tragic: She is a war widow.
About 40 percent of the more than 3,000 U.S. soldiers who have died since Sept. 11, 2001, had a wife or husband waiting for them back home. And for those surviving spouses, who are almost all women, the grieving process is their own.
But within this sisterhood that grows with every casualty, there is a subgroup of young widows in their teens and early 20s. Newly single, but not exactly so, these women say they must strike a balance between being the fallen hero's wife and being a young, independent woman - all while mourning under the microscope.
"When you think of a widow you think of an older lady, maybe 60 or 70, not a 23-year-old," said Frantz, whose husband, Spc. Lucas Frantz, was killed in Iraq a year ago this Wednesday.
"Starting my life over again obviously wasn't my choice, but I'm going to go with it," she said. "I'm not going to hide in the corner of my room."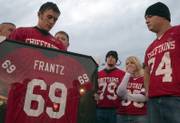 Comments such as these show just how much American military widows are speaking out and grieving publicly as they never have before, said Kathy Upchurch, national vice president of Gold Star Wives of America, an organization that has been supporting military widows since 1945.
"During Vietnam you didn't talk," said Upchurch, whose husband was killed there in 1969.
The Internet, support groups and the media widely announcing information on all casualties has allowed those left behind to connect with each other, Upchurch said.
"It's not as stigmatized to go to a grief group. And there's more available to them to reach out to get help if they want to," she said.
Two years ago last month as Erin Lamb was celebrating her 21st birthday, her in-laws came to tell her that her husband, Spc. Charles R. Lamb, of Casey, Ill., had been killed in Iraq.
Following her husband's death, Lamb initially found strength in her community, which wrapped her in a blanket of support. But within months that blanket became a burden.
"You are looked at totally different," she said, stressing that she did not want to appear ungrateful.
Frantz agreed.
"Right when Lucas died I said, 'It'll be good: I'll live in Tonganoxie and everyone will know me,"' she recalled. "But as much as Tonganoxie was there for me - and they were really there for me - I get tired."
"After a couple of months you just have to live your life. You want to go to the grocery store without people coming up to you or looking at you or saying something to the person next to them," Frantz said, gesturing out the window to the B&J; Country Mart, where she and her husband both worked and met in 2000.
Living under such a spotlight drove Lamb to do something she had never done: She left Illinois.
"In Casey, I didn't have a chance to grieve," she explained from her new home near Albany, N.Y. "I don't regret it, and I'm thankful that I did move."
It's a move Frantz said she is ready to take too. "I need to leave Tonganoxie and be a normal person," she said.
One reason Frantz said she wants to leave is that she is dating again - a choice that not everyone in her family and circle of friends agrees with.
"It's been difficult and hard. Lucas died a hero, and everybody puts him up so high, and it's hard for me because he was my husband. He was a normal person, but people forget about that," she said.
"I always knew Lucas never wanted me to be alone in life. I do better with someone beside me."
Copyright 2018 The Lawrence Journal-World. All rights reserved. This material may not be published, broadcast, rewritten or redistributed. We strive to uphold our values for every story published.