Wichita — Each night before going to bed, cattle rancher Barrett Broadie prays for rain. More such prayers follow on Sunday mornings, when he and his neighbors meet for church services in Ashland, a town of about 1,000 in southwestern Kansas.
The summer of 2006 was the second warmest in the continental United States since records began in 1895, according to the NOAA National Climatic Data Center. Despite some rainfall last month in parts of the country, moderate to extreme drought conditions continue to affect 40 percent of the nation.
"Most of the people who live in our part of the country here are pretty resilient people - they come from hardy stock. They have been out here since the late 1880s. ... We are used to dealing with it, but it wears on people - you can only manage so much," says Broadie, a fifth-generation farmer.
Charlie Griffin, director of the Kansas Rural Family Help Line, gets two or three calls daily from farmers struggling with bills they have no way to pay. Some are looking for emotional support or dealing with mental health issues. Others ask about available financial resources.
"Often the first thing out of someone's mouth is, 'I don't know where to turn,"' Griffin says.
Most cries for help come from the northwest and southwest quarters of the state - which have been struggling with the harsh arid weather for several years - but this year the drought is so widespread calls are coming in from across the state, he says.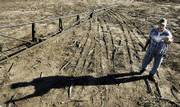 It's difficult to quantify how deeply the drought is affecting Kansas farmers. While the number of calls to the help line is running about the same as in past years, Griffin says the drought has risen to the top of the average farmer's list of worries, if the workshops he attends statewide are any indication.
Those stresses are likely only to get worse as farmers deal with the drought's financial effects, but at least some relief may be in the offing in some areas.
The National Weather Service's Climate Prediction Center has forecast some improvement across the Great Plains through December. Conditions may also ease somewhat in areas ranging from northeastern Texas to into Missouri, and also across the Southeast.
Whether the areas will get enough moisture to aid crops is uncertain.
Drought's toll
THE PROBLEM: A lingering drought has entered its sixth or seventh year in parts of Kansas, decimating crops at a time when prices for fuel and fertilizer have skyrocketed. IMPACTS: Operating loans for farmers typically come due at the end of the year. The tough harvest in many parts of the state is leaving many farmers struggling to pay bills. Some are turning to crisis intervention programs for help with everything from depression to debt restructuring.
Calls to the help line typically become more numerous as winter approaches and the seasonal farm work is done. As farmers have more time on their hands, they start going over their farm's account books. This past growing year has been a particularly tough one with the hot temperatures and drought.
Broadie says he's fortunate enough to have an off-farm job working for a satellite cattle auction company to help pay bills and make his land payment.
"For a lot of these families, there is nothing they can do," he says. "Psychologically that is as tough on them as anything."
Broadie keeps about 220 cows year-round and usually runs another 400 or more head on wheat pasture every winter. Last year the drought-stressed pastures were so poor he could only run 200 head on pasture, cutting his profits in half.
"It makes it hard to make payments," he says.
Copyright 2017 The Associated Press. All rights reserved. This material may not be published, broadcast, rewritten or redistributed. We strive to uphold our values for every story published.