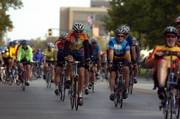 Today
7 a.m. - Ride-Day Registration and Check-in, South Park Recreation Center, 1141 Mass.
8:30 a.m. - Octoginta Ride leaves from South Park; rides of 40 or 80 miles across western Douglas County.
If Pat Brennan wanted to just ride his bike, he could have stayed in Nebraska.
"It's the food on the 80-mile ride," Brennan, of Falls City, Neb., explained. "The Wheatfields sandwiches. The Ad Astra beer."
Sure, the annual Octoginta ride and rally has been a draw for all of its 37 years in existence. There's the early fall tradition of scenic rides through Douglas County, the camaraderie, the cycling gear swap meet.
But the cycling and good grub aren't the only draw, Brennan said. It's also the hundreds of other cyclists from a dozen states swooping in on Lawrence for one last cycling-season hurrah.
"I think the reason we had as many turn out ... is because it's beautiful out there," said Paul Corcoran, who has worked registration for the event since 1991.
Saturday's Octoginta events began with a sanctioned, early-morning timed ride that raised funds for the Free State Racing Development Team.
Eighty riders strapped on helmets and participated - a near-record showing, organizers said.
"Biggest turnout in years," said Curtis Martell, organizer. "Perfect weather - it was a lot of fun."
Then, 115 cyclists participated in the 30-mile Tour De County ride and a mountain bike gravel road tour through Douglas County.
"When I compete, I ride for the competition, and then for the other rides, you just chill out and have fun," said Patrick Bunch, who traveled to Lawrence from Roeland Park.
The main Octoginta ride takes off at 8:30 a.m. today from the South Park Recreation Center, 1141 Mass.
"It's a time when racers, nonracers, community members, everybody gets together and has a festival," said Bill Anderson, who has participated in the ride for more than 20 years.
The 40- and 80-mile tours go through Douglas County.
It's one of three fundraisers that The Lawrence Bicycle Club organizes every year.
"It's just a chance to ... do that one last big ride for the end of the year, before the winter comes in," said Corcoran, who's also the club secretary.
But for many people Saturday, the event's extras meant just as much as the actual riding.
At the South Park swap meet, James McKenzie ran his hand along the 54-inch rubber tire of what, at one point, was called an "ordinary" bike.
Not so ordinary anymore. Not with a chainless frame and a front wheel and seat that tower above the ground.
The Lawrence resident began collecting these old bicycles some years back.
"I said, 'I've just got to have one,'" McKenzie said, recalling the first time he set eyes on the old, elevated bikes.
A few feet away, Brennan talked more about his plans for the weekend. Along the 80-mile county ride, he'll get to eat omelets, soup, sandwiches and even more afterward at Free State Brewery, 636 Mass., the official home of Ad Astra Ale and the unofficial home of Octoginta cyclists.
"Plus, Kansas plays Nebraska," he said. "So we'll go buy some Kansas fans some beers and then argue through the game."
Copyright 2018 The Lawrence Journal-World. All rights reserved. This material may not be published, broadcast, rewritten or redistributed. We strive to uphold our values for every story published.