Expect to see plenty of bicycles around the city and county this weekend.
Hundreds of riders from the state and region are expected in Lawrence for the 37th annual Octoginta ride, organized by The Lawrence Bicycle Club. Events will take place all weekend.
"It's a fall tradition. It is part of Douglas County and part of what makes it neat," said Douglas County Administrator Craig Weinaug, the club's director of the event. "It's part of our culture now - at least for those of us who ride a bike."
Events start with Octoginta registration from 8 a.m. to 7 p.m. Saturday at the South Park Recreation Center, 1141 Mass.
The first event, a time trial on a 6.2 mile course, is a fundraiser for the Free State Racing Development Team and a United States Cycling Federation sanctioned race.
Riders of all ages can participate. The first rider will begin the race against the clock at 7 a.m. on Old K-10 Highway at Noria Road. Riders ages 10 to 18 can register for free; otherwise the fee is $20. The time trial will last until 8:15 a.m.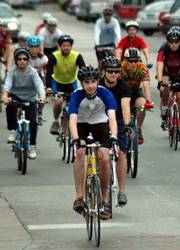 The 30-mile Tour De County ride and a mountain bike tour each cost $5 and begin at 9:30 a.m. Saturday at the recreation center. A swap meet begins at 2 p.m. at the recreation center.
The weekend's main rides of 40 and 80 miles through the county begin at 8:30 a.m. Sunday at South Park. Police will escort the riders out of the city south on Massachusetts Street, west on 19th Street, south on Iowa Street and west on Clinton Parkway.
Anywhere from 500 to 800 people traditionally participate in the Sunday rides, Weinaug said. Fewer people may come from the region this year because of Saturday and Sunday's NASCAR events at the Kansas Speedway and hotel-room availability in Lawrence, he said.
The ride takes bicyclists to Lone Star Lake and Bloomington Beach. If riders are in it for the full 80 miles, they will travel along roads west of Clinton Lake.
"It's kind of one of the last hurrahs for road biking because it will be getting too cold really to ride road," said Nick Gardner, a manager at Cycle Works, 2121 Kasold Drive.
Gardner and other staff members will help with repairs along the way Sunday. Sunflower Outdoor & Bike, 804 Mass., will offer its traditional breakfast for riders at a stop northeast of Lone Star Lake.
"We'd be excited to have anybody come out, and we'll try to provide any support that they need. Come out and enjoy a beautiful day in Douglas County on your bicycle," Weinaug said.
Great Harvest Bread Co., 807 Vt., is also a sponsor.
37th annual Octoginta Ride
Saturday 8 a.m. to 7 p.m. - Octoginta Registration, South Park Recreation Center, 1141 Mass. 7 a.m. to 8:15 a.m. - Time Trial of 6.2 miles, Old K-10 Highway at Noria Road, $20 entry fee, free for ages 10 to 18. 9:30 a.m. - Tour De County and Mountain Bike Tour, both departing from the recreation center, $5. 2 p.m. - Swap meet, recreation center. Sunday 7 a.m. - Ride-Day Registration and Check-in, recreation center. 8:30 a.m. - Octoginta Ride leaves from South Park; rides of 40 or 80 miles across western Douglas County. Organized by Lawrence Bicycle Club
Copyright 2018 The Lawrence Journal-World. All rights reserved. This material may not be published, broadcast, rewritten or redistributed. We strive to uphold our values for every story published.