We recently rode down streets and up hills to test three types of bikes - we excluded a fourth type, mountain bikes, because they're mainly for off-road - that span a range of riding modes:
¢ Road bikes. The most expensive of the three, these are best for riders who want to log serious miles, including multiday touring. Road bikes feature skinny tires, a narrow seat, a lightweight frame and drop handlebars. They're typically sold in bike shops. Performance road bikes, a subcategory, are aimed at cyclists who like the racy look and performance of a conventional road bike but may not want to hunch over so far on the handlebars. Most of our tested road bikes are performance models and cost from $650 to $1,800.
¢ Fitness bikes. These blend the slim tires, narrow seats and lightweight frames of road bikes with the horizontal handlebars and more upright riding position of mountain bikes. Fitness bikes can be the right choice for someone who wants to burn calories, improve cardiovascular health or ride to work. Models we tested ranged from $630 to $830.
¢ Comfort bikes. Least expensive, at $330 to $600, the comfort bikes we tested are for leisurely recreational riding on generally flat roads. You sit in an upright position and enjoy such creature comforts as shock absorbers in the seat and/or fork; a cushiony, wide seat; and low gears for easier uphill pedaling.
Our tests focused on a bike's handling, its shock absorption, the ease with which it climbed steep hills, and the effort required to shift its gears. Most of the 19 models we tested scored at least "very good" overall.
Several broke away from the pack.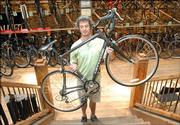 Among road bikes, the Klein Reve V and the Giant OCR Composite 3 were excellent performers and - at $1,800 each - unsurpassed in price. Choose between them by fit, looks or details such as frame materials. (At just 20 pounds, the Klein is the lightest bike we tested.) Performing almost as well and costing much less were the Giant OCR 1 ($1,000) and the Cannondale Synapse 4 ($1,050), both CR Best Buys. For road biking on a budget, consider the very good - but, at 24 pounds, comparatively heavy - Raleigh Cadent 1.0 ($650). It's also a CR Best Buy.
Frontrunners in fitness bikes were the Giant FCR3 ($630) and the Schwinn Super Sport GS ($700). At 23 pounds, these bikes weigh just a bit more than the leading road bikes and did well in our tests. The Giant's price and superior handling make it the first choice in this group.
Our top pick among comfort bikes is the Schwinn Sierra GS ($340). It has excellent shock absorption, but its lack of front index shifting (indicating that you're in gear) can make changing gears more difficult until you've become accustomed to the bike. Another very good performer, the Mongoose Switchback SX ($280), has front and rear index shifting.
We suggest you do your bike shopping at a bike shop. You'll pay more, but are more likely to be satisfied with your purchase. Bikes from big-box stores might not be properly assembled or well matched to your body. Also, if you don't like the pedals or seat on a particular model, some bike shops will swap components at little or no cost.
Copyright 2018 The Lawrence Journal-World. All rights reserved. This material may not be published, broadcast, rewritten or redistributed. We strive to uphold our values for every story published.