'Tis the season to be merry. Just watch out for the grinches.
The holiday season started on a sour note for Susan Turner, a Lawrence woman who said her home was burglarized and credit card stolen last week.
Turner said Monday that she was amazed at how easily the suspects racked up hundreds of dollars in purchases at local business on Black Friday - during the day-after-Thanksgiving shopping frenzy - using her credit card.
"Had somebody bothered to ask for ID, I don't think it would have gone that far," she said. "We all pay. We had to pay somebody to arrest them. We've got to pay to try them. It's not fair to anybody."
Something amiss
Turner, 49, who works in billing at a local medical office, said she woke up Friday morning and noticed something wasn't right in her apartment at Westgate Apartments, 4641 W. Sixth St.
"My cat usually sits in the windowsill there and she was leaning out of the window, so I noticed the screen was broken. I thought she had done it," she said.
When she went to get her purse later that morning, she couldn't find it and realized her apartment may have been burglarized. She got online and looked at her bank account.
"It was out. They had taken everything, plus overdrafted me," she said. "I called the police and had them on the way, and I called the bank."
According to police reports, her bank card had been used that morning to make two purchases at Wal-Mart, 3300 Iowa: one for $200 and one for $486. A third attempt to buy $723 worth of merchandise at the store failed, apparently because the account was overdrawn by then, Turner said.
'Astounding'
"I don't think that anybody at Wal-Mart was suspicious of them, and actually they should have been because there was three purchases - bang, bang, bang," she said. "That's kind of astounding to me. : You should have to show ID for every purchase. It's a pain : but that would have stopped them right there."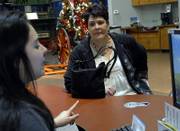 Also included in the spree was a purchase for $43.64 at Hy-Vee, 3504 Clinton Parkway, and a $34 purchase at University 66, 2434 Iowa.
Kory Lundberg, a spokesman for Wal-Mart, said in a statement: "Like many retailers, we do not have a strict policy on ID confirmation for credit card transactions."
He deferred comment on the rules for verifying credit cards to issuers such as Visa or MasterCard. Visa's rules for merchants instruct them to match the signature on the back of the card with the receipt before accepting the purchase - and to make a special phone call if it appears suspicious.
But the rules say showing ID can't be a requirement for accepting the card, and that the company "believes merchants should not ask for ID as part of their regular card acceptance procedures."
Convenience vs. security
Crimes such as the one that happened to Turner drain $56 billion annually from the U.S. economy, according to James Van Dyke, who studies identity fraud. That's not including other costs such as police, technology, courts and store security employees.
But consumers demand convenience.
"There's two forces at work here - one of security and one of convenience," said Van Dyke, founder and president of Javelin Strategy & Research in Pleasanton, Calif. "They kind of work against each other. Increasingly, to encourage higher levels of convenience, stores are not requiring a signature at all."
He says banks should be giving cardholders the power to make customized security settings for their cards - for example, requiring a photo ID each time their card is used.
For now, he said, retailers look at fraudulent purchases as a cost of doing business. Usually, in a case like Turner's, the store where the purchase happened is on the hook for the cost. That means higher prices.
"The most successful businesses are always going to pass on their costs to consumers," Van Dyke said.
Turner said she didn't know what her cards were used to buy.
Three Lawrence residents - Christina Marie Briggs, 23, Joey Gipson Jr., 29, and Richard E. Elston Jr., 30, all of 1309 N.J. - were arrested in the case.
Gipson and Elston were charged Monday with aggravated burglary and theft, and Elston also was charged with criminal use of a financial card. Briggs was released from jail on bond Friday night before formal charges could be filed and was ordered to appear in court Dec. 8.
At the time of his arrest, Elston had two pending burglary cases: one for an auto burglary in June and one for a home burglary in September in Eudora.
"I know I didn't do this crime," Elston told Judge Pro Tem Peggy Kittel during his first court appearance Monday. She set his bond at $50,000 and Gipson's at $15,000.
Copyright 2018 The Lawrence Journal-World. All rights reserved. This material may not be published, broadcast, rewritten or redistributed. We strive to uphold our values for every story published.