Chat about Christmas toy shopping with Margaret Warner
November 20, 2006
This chat has already taken place. Read the transcript below.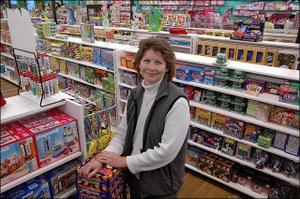 Thanksgiving Week usually marks the beginning of toy shopping season. Maragaret Warner, co-owner of The Toy Store in downtown Lawrence, takes your questions about what kids want this Christmas.
Moderator:
Hi folks! I'm Joel Mathis, managing editor for convergence. Margaret is here, now, so we'll get underway.
Margaret Warner:
Hi everyone!
Moderator:
Margaret: Thursday is Thanksgiving. We know this is the big shopping time of year -- how important is holiday season to businesses like yours?
Margaret Warner:
The Holiday season is extremely important in the retail toy business. We do about 65% of our business in the last eight weeks of the year.
bjp:
What is the most popular game that you have in your store?
Margaret Warner:
This year our numbet one game is Blokus. It is a strategy game for ages 8 and up, for 2 to 8 players. It is a board game, that has really beautiful playing pieces, which resemble mosair tiles. It has an artistic beauty about it, what I really love is that it challenges us to think in three dimensional terms.
Margaret, what do you think about all of those day after Thanksgiving stories you hear about (year-in and year-out)...about middle-age moms slugging one another over the last "hot toy" that they "absolutely must get/have" for their kid for Christmas? Don't you think that that sort of thing is rather un-Christmas-like? I do!
Margaret Warner:
It is not only un-Christmas like, it is dangerous! I know most parents would rather set positive examples for their precious little ones! I believe the media is really the ones who like to focus on this type of behavior, and I must say I see very little of that in real life.
Moderator:
With the advent of computer games like Playstation 3 and Wii, do kids still have interest in playing with regular toys? How do you adjust to all the different options that children have to entertain themselves?
Margaret Warner:
The Toy Store is successful because we choose to offer non-electronic toys. My customers are so grateful to find the classics they remember from their childhoods. We specialize in wood blocks, humming tops, jacks, marlbes, Tinkertoys, Lincoln logs, jump ropes, and all the old fashioned play things that build imagination and creativity.
Moderator:
What do you hear customers saying they're looking for this holiday season? Any particular toys that have big drawing power this year?
Margaret Warner:
I am happy to report that the excitement in toy land this Holiday season is focused on the classics. Board Games are in. Families are focusing on spending time together engaged, and board games are the perfect vehicle for that family time.
Wood blocks are also turning into one of our best sellers this season. Folks are coming in askiing for the natural unit blocks, the square embossed ABC blocks, and the primary clolored wood blocks are also selling well.
Moderator:
Speaking of the wood blocks: A complaint about modern toys is that they now exist purely for entertainment -- whereas in the "old days," they helped children practice skills and abilities for adulthood. Do you think this is true, or are such fears overblown?
Margaret Warner:
I believe that "open ended" toys do help children develop their abilities. An example might be the wood Thomas The Tank Train Sets. These are kid driven, no batteries or electricity needed. A child of two or three starts with just manuevering the engine and a few cars around the track. As the child grows, and more track, buildings, and trains are added, they meet more challenges. By 5 or 6 that same child might be making decisions as to how the track layout shoud be constructed. This takes some real reasoning skills. By 8 or 9 this same train set can present new opportunities....where should the Fire Staion be positioned in this rail town? Who is the conductor in charge? How many switches, and in what directions should they be laid out? See....you can start very simple, and as the child grows...the set grows....meaning years of use, creativity, and opportunities as the child is ready.
Moderator:
What's *your* favorite toy?
Margaret Warner:
It is really hard to have just one favorite! So...........If I only get one....it would be wood blocks...because they offer so many possibilities! Today I might build a castle, tomorrow that castle might become a space ship!
Okay...I cannot stop at one.....art supplies would be on the list. A box of crayons is magic!! And...for that matter...have you ever just spent an hour enjoying a slinky!
I also love all books......and almost nothing appeals to me more then reading Goodnight Moon, or Green Eggs and Ham!
Moderator:
Will you folks be starting operations at midnight Friday like some other stores?
Moderator:
Upcoming will be our last question for the day.
Margaret Warner:
Good grief NO! We are excellent in selling toys, and a good nights sleep is part of that recipe! But seriously, our Toyologists will be available Monday thru Saturday from 10 to 8 pm, and on Sunday from Noon to 5. We have two stores, one here in Lawrence at 936 Mass, and our Topeka store at 21st and Fairlawn. We have won 3 national awards recently, and have been named the largest independent toy seller in the world! Our Toyologists are expertly trained, and have over 183 combined years of toy experience! I hope you will all come and play in our stores this season!
bjp:
With the explosion of online retailers do you think that is the wave of the future? Are you online?
Margaret Warner:
I do believe the internet lends itself very well to some products. I am not online, because I am most successful when my customers "experience" the play...they want to hold the toy, hear the toy, "work" with the toy...and the internet does not offer that three dimensional experience. People of all ages love coming into the store and playing...they sail flying monkeys through the air....they stomp on our stomp rocket and shout with delight as it takes flight....they love hugging all the bears and finding the softest......its magical...its fun....and that is our recipe for success....
Moderator:
Thanks, Margaret, for joining us today. And Happy Holidays!