Get ready to crank up the holiday cheer.
Downtown Lawrence Inc. has set its annual kickoff event for the Christmas shopping season for the day after Thanksgiving, and this year the event will start earlier and encompass more of downtown.
"We want to show people that in addition to being a shopping destination that downtown Lawrence is really a community destination," said Rick Marquez, executive director of Downtown Lawrence Inc.
The event will begin at 3 p.m. Friday with music from members of the Lawrence and Free State high schools' choirs. The groups will perform in the breezeways in the middle of the 700 and 800 blocks of Massachusetts Street.
Also at 4 p.m., a band of area 4-H members will be playing holiday music in the breezeway in the 700 block.
"The kids are off school that day, and we thought it would be nice to stretch the event into different areas of downtown," Marquez said.
He said that he's seeking other entertainers to perform at 3:30 p.m. and 4:30 p.m.
Beginning at 5 p.m. the action will shift to Ninth and Massachusetts streets. A brass choir of local youths will perform before downtown leaders flip the switch on a new set of lights in the trees along Massachusetts Street.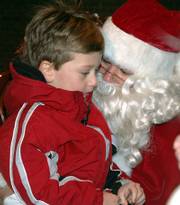 At 6 p.m., Lawrence-Douglas County Fire & Medical crews will be on hand for an expected rescue of Santa Claus from the roof of Weaver's department store. Santa then will spend time visiting with children.
Lights have been up in the Massachusetts Street trees for more than a week, but city spokeswoman Lisa Patterson said city crews are adding to the display. Those new lights will be turned on for the first time at the Friday event.
Not all blocks of Massachusetts Streets will have tree lights, however. The 600, 700 and 800 blocks will have lights because the waterline replacement work conducted this summer added electrical boxes for the lights. The waterline work will continue next summer in the 900, 1000 and 1100 blocks and will add electrical boxes to accommodate lights in those blocks.
For this year, the 900, 1000 and 1100 blocks are decorated with garland that wraps around the poles of the city's street lamps. Marquez said Downtown Lawrence Inc. will buy garland wraps for the 600 through 800 blocks for next season. That means that by next Christmas, the entire stretch of Massachusetts Street will be lighted and decorated with the garland.
"People are very excited about having the lights in the trees again," Marquez said. "We've had good comments about the garland wraps too. It is a good, traditional look."
Copyright 2018 The Lawrence Journal-World. All rights reserved. This material may not be published, broadcast, rewritten or redistributed. We strive to uphold our values for every story published.